Inbound Vietnam Travel - Viet International Travel and Trade Co., Ltd
10 Best Hanoi Dishes Top Must - Try Foods in Hanoi

Date Submitted: 14/08/2021 - 354,744 - view
The best food in Hanoi you cannot ignore. Try it when you have a tour here.
The best Hanoi dishes are inexpensive yet tasty treats that can be found within Hanoi Old Quarter's narrow alleyways and bustling street markets. Compared to other cities in Vietnam, Hanoi food tends to be on the sweeter side and utilises freshwater ingredients such as prawns, squids, shrimps, crabs, clams, and mussels. You can also find familiar Vietnamese street food such as pho noodles, spring rolls, rolled cakes, and skewered meat.
As with many dishes in Vietnam, diners are always served with platters of fresh greens and herbs as well as the quintessential nuoc cham dipping sauce as accompaniment. Since a trip to Hanoi is not complete without sampling its traditional delicacies, here's a list of the top must-try foods in Hanoi.
1. Cha Ca (Turmeric Fish with Dill)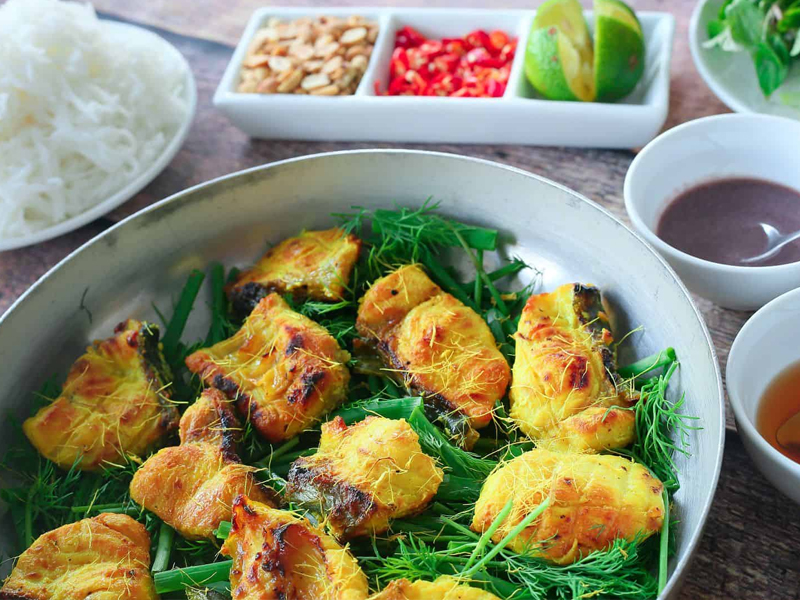 A distinctive Hanoi delicacy, cha ca is white fish seasoned with garlic, ginger, turmeric, and dill served on sizzling pan. Diners also get a bowl of rice noodles, peanuts, chopped spring onions, parsley, nuoc cham sauce, and red chili slices, all of which are meant to be mixed together with the turmeric fish. Cha ca is so popular amongst locals that there's a street in Hanoi Old Quarter named after it, though the best (and affordable) places to enjoy this seafood delicacy is at Cha Ca Thang Long in Duong Thanh Street.
Opening Hours: Daily 10:00 – 15:00, 17:00 - 22:00
Address: 21 Duong Thanh Street, Old Quarter, Hanoi
Tel: +84 43 824 5115
2. Mien Xao Luon (Glass Noodles with Deep-Fried Eel)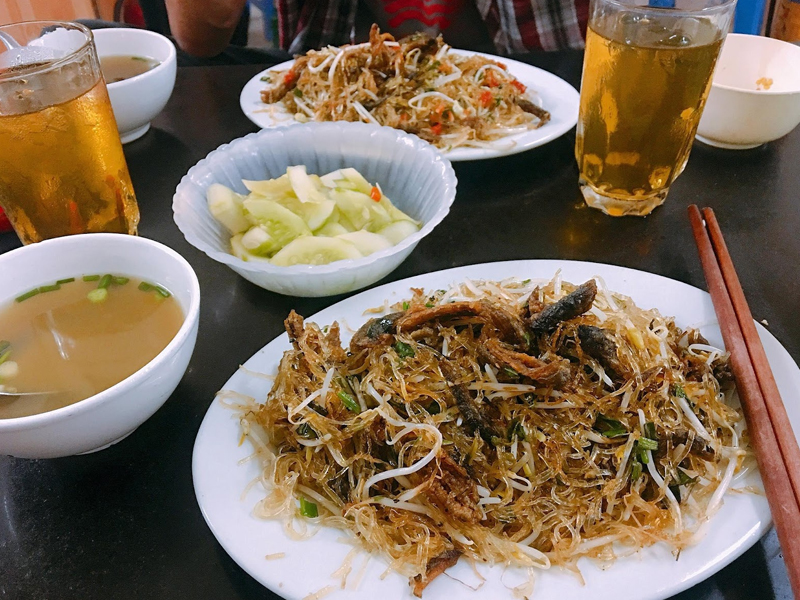 Mien Xao Luon is always another delicious option for seafood lovers, including glass noodles stir-fried in an eel-based broth topped with crispy eel, bean sprouts, eggs, cucumber slices, fried shallots, and fried shallots. Perilla. Like many dishes in Hanoi, one side is herbs, grated banana flowers, and bean sprouts. Dong Thinh Nha Hang Mien Luon in Hoan Kiem District is a local hangout for geeks, where dishes range in price from VND35,000 to VND50,000.
Opening Hours: Daily 17:00 – 23:00
Address: 87 Hang Dieu, Hoan Kiem District, Hanoi
Tel: +84 43 826 7943
3. Bun Thang (Rice Vermicelli with Chicken, Egg, Pork)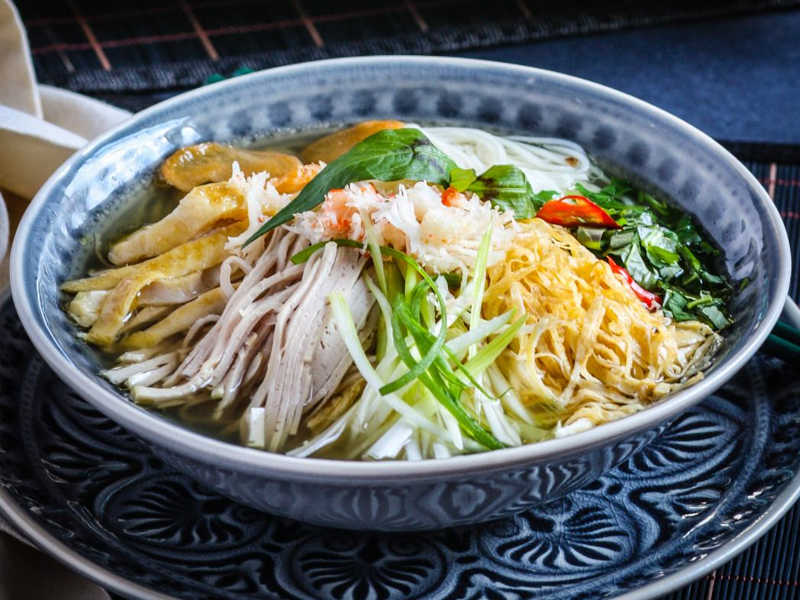 Bun thang or rice vermicelli with chicken, egg and pork can be enjoyed at any time of the day. The clear yet flavourful broth is made with 20 ingredients, including dried shrimp, squid, shrimp paste, spring onion, coriander, ginger, mushroom, beet, fish sauce, sugar candy, and vinegar. It is also a particularly attractive Hanoi dish as the noodles, chicken, eggs, pork slices, and a dollop of shrimp paste are carefully arranged to resemble a flower. Available mostly within Hanoi Old Quarter, we highly recommend Bun Thang Ba Duc as you can enjoy a generous bowl of bun thang for about VND 30,000.
Opening Hours: Daily 18:00 – 22:00
Address: 48 Cao Go, Hoan Kiem District, Hanoi
Tel: +84 43 826 7943
4. Banh Goi (Fried Dumplings)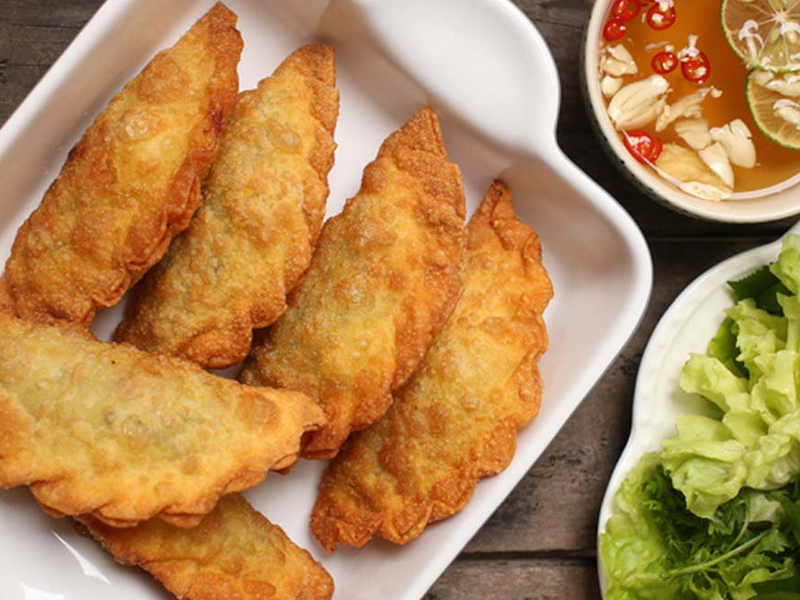 Shaped like miniature pillows (hence the name), banh wrap has shredded noodles, wood ear, minced pork, steamed quail eggs, and seasonings inside the rice flour cake. It is then deep-fried for crispiness and served with a sweet and sour dipping sauce made from garlic, chili, sugar, lime juice and fish sauce. You can also combine your banh goi with fresh lettuce and coriander leaves if you find it too greasy to enjoy on its own.
Opening Hours: Daily 10:00 – 21:00
Address: 52 Ly Quoc Su, Hoan Kiem District, Hanoi
Tel: +84 43 828 5922
5. Xoi Xeo (Sweet Sticky Rice)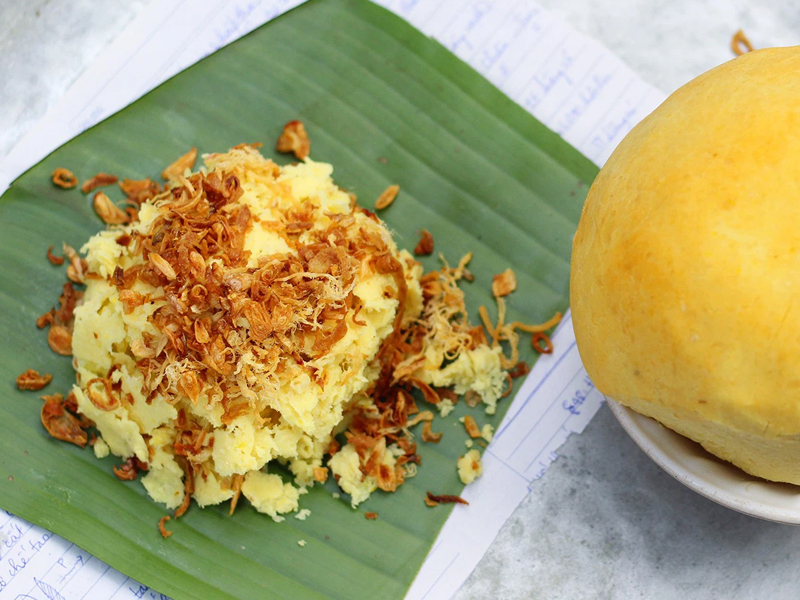 Xoi xeo or sweet sticky rice usually comes with staple toppings of green mung bean paste, soy sauce, and dried shallots, but you can opt for a variety of add-ins such as pate, boiled chicken, cha lua (Vietnamese ham), marinated pork belly, or preserved eggs for a more substantial meal. Some restaurants also serve xoi xeo as dessert, topped with dried coconut shavings, roasted sesame seeds, and crystallised sugar. An inexpensive yet prominent xoi xeo restaurant is Xoi Yen, where you can enjoy a basic bowl for VND 15,000, with additional ingredients between VND 15,000 and VND 30,000.
Opening Hours: Daily 07:00 – 22:00
Address: 35B Nguyen Huu Huan, Hoan Kiem District, Hanoi
Tel: +84 43 934 1950
6. Pho Xao (Stir-Fried Pho)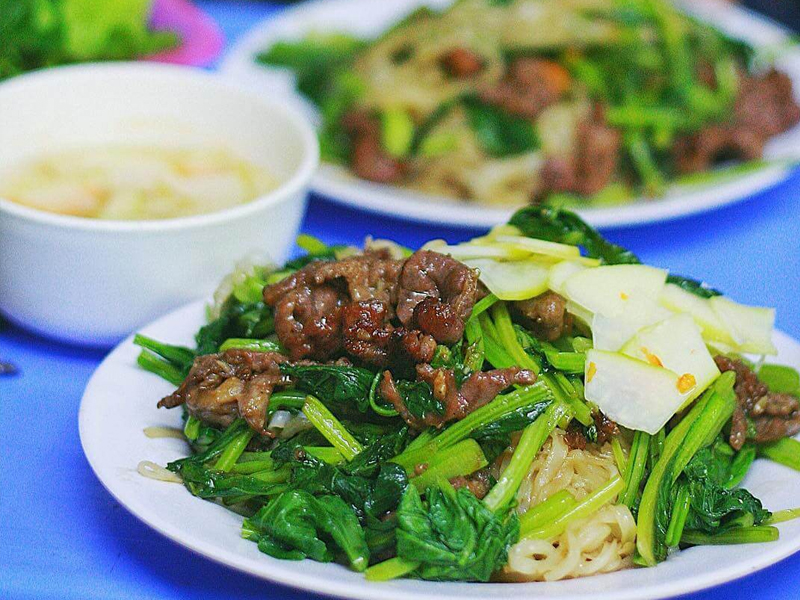 Pho may be best known as vermicelli served with soup, but you can also enjoy it as stir-fried pho, which is stir-fried with onions, thinly sliced ​​beef, and assorted greens. The flat noodles are usually crispy on the outside with a smooth sticky texture, and most restaurants sometimes add fried eggs and chili sauce to this simple but satisfying dish. Thin is a family-run restaurant in Hai Ba Trung district where you can enjoy stir-fried pho for as little as 50,000 VND.
7. Bun Cha
Bun Cha is the second most famous lunch dish in Vietnam after beef noodle soup. Vermicelli is eaten with charcoal-grilled pork, fresh herbs, pickled green papaya and a very special sweet-tasting broth. When the ingredients are combined in a broth-like dipping sauce, it creates a tangy cool BBQ soup that is absolutely divine.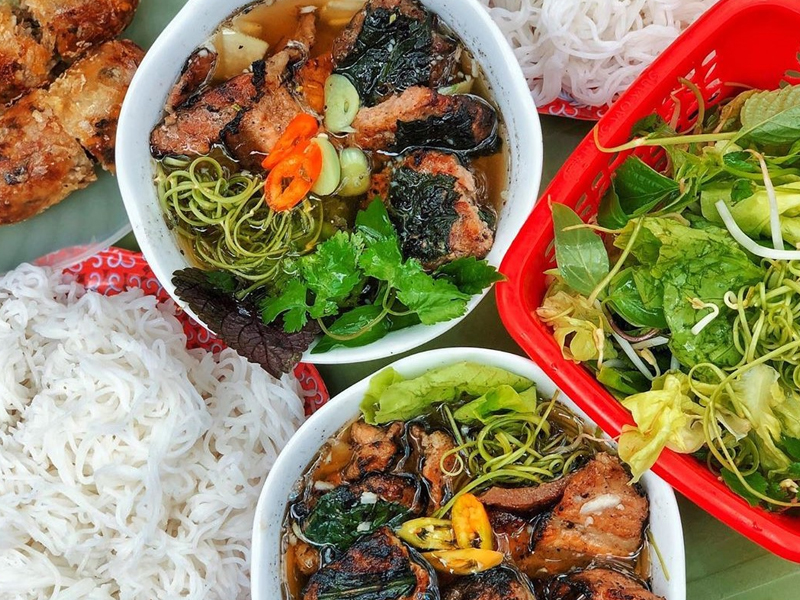 Try it on the street (which is what we typically prefer) or if you want a cleaner place try: Bun Chu Tuyet 34 Hang Than, Nguyen tarung Truc, Ba Dinh, Hanoi, Vietnam or you can try it for novelty where Obama and Bourdain ate: Bun Cha Huong Lien 24 Le Van Huu Hà Nội, Vietnam
"Hai suất bún chả và hai ly trà xanh!" Come in and say this out loud!
8. Bun Dau Mam Tom (Vermicelli with shrimp paste)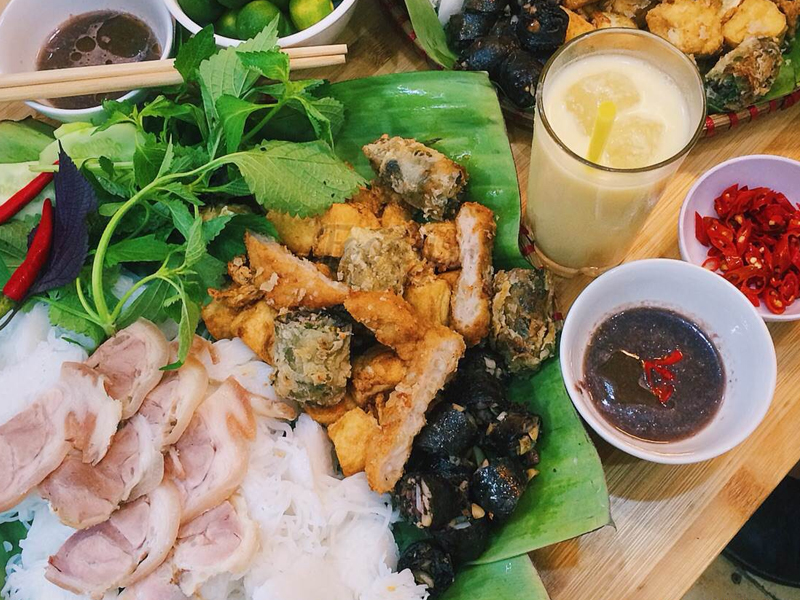 Ngoài phở thì bún đậu mắn tôm là một đặc sản của Hà Nội. Translating literally to "noodles" and "tofu" that's what it is. Alongside a menagerie of herbs, it includes big cubes of rice noodles, perfectly crispy fried tofu, and fresh cucumbers. The idea is to dip, alternate, and enjoy.
The texture combinations going on are what we love most about it. Also, try the chả cốm cakes (fried seasoned pork and rice). Dip it all into nước mắm (fish sauce) and try the mam tom (very rich dark oily fermented shrimp paste) if you dare!
9. Banh Cuon ( Rolled Cake)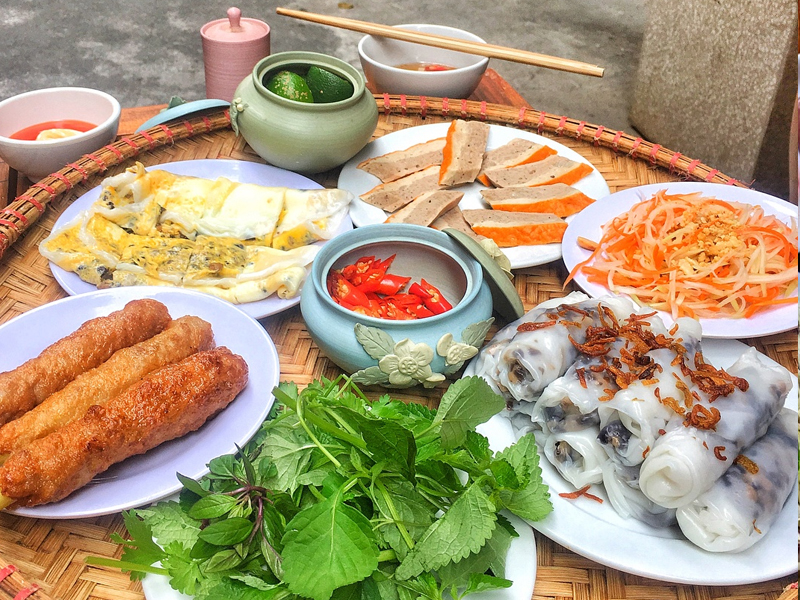 It is a breakfast dish of many Hanoians. A delicate white rice flour sheet is lifted off of a hot steamer with a long bendable piece of bamboo and filled with woodear mushrooms and ground pork, and topped with fried onions and cilantro, dipped in gravy and enjoyed
Try eating "banh cuon" with "lap xuong" it's like a sausage that will make the dish more delicious.
Try it here:Banh Cuon Gia Truyen Thanh Van
14 Hang Ga, Hoan Kiem, HaNoi, Vietnam (Old Quarter) 45k VND
10. Bun Rieu Cua (Crab noodle soup)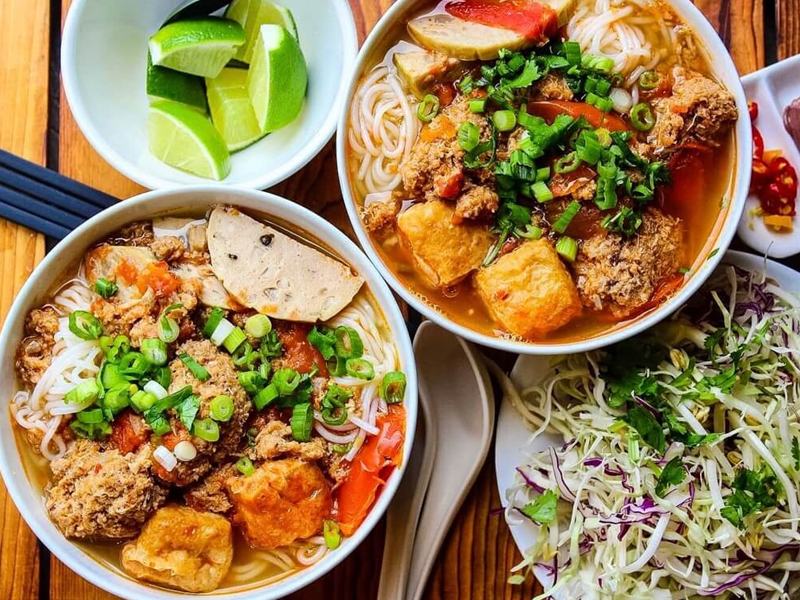 A breakfast staple amongst locals, the dish is also garnished with bean sprouts, prawn paste, herb leaves, tamarind/lime, tofu, water spinach, and tomato chunks. Like most Vietnamese noodle soups, local restaurants offer a basket of greens and herbs on each table, such as leaf lettuce, perilla leaves, cilantro, shredded morning glory stem, and also deep-fried crullers for dunking directly into the soup.
Try it here: 11 Hang Bac, Hoan Kiem, Ha Noi, Vietnam (Old Quarter) 35-45k VND
INBOUNDVIETNAM TRAVEL is recognized by the Vietnam Tourism Association as a Top Tour Operator and Service Provider of Visa, Work Permit, Permanent Residence Card and nominated for the Vietnam Trusted Travel Company award.
Many destinations in Hanoi for you at: https://inboundvietnam.com/tour-travel-ha-noi
Articles same category
VIETNAM - COVID-19 Cases: 1.205.128 recorded cases. 960.203 of the patients have already been discharged from the hospitals, 24.847 death. Updated Nov 29, 2021.
Vaccine passport in Vietnam is one of the most searched keywords among not only business travelers who are in need for a business trip to Vietnam...
Neighboring countries: China to the north, Cambodia to the southwest and Laos to the west. The South China Sea borders the country to the east.