3 Best Things to Do in Can Tho City
Date Submitted: 03/09/2021 - 354,554 - View
Visit Can Tho floating market, Can Tho museum and many other entertainment activities that visitors can experience when traveling in the largest city in Western
Can Tho, which is considered the epicenter of the Mekong Delta, is the largest city in the region and feels like a metropolis after a few days of exploring the water.
As the political, economic, cultural and transportation hub of the Mekong Delta, it is a bustling town with a vibrant waterfront with sculpture gardens and an appealing mix of narrow walkways and walkways. wide avenue. It's also the perfect base for the nearby floating markets, a major draw for visitors who come here to paddle along the many canals and rivers that lead out of town. Visiting the Mekong Delta is not complete without knowing the best things to do.
Vietnam is a fascinating country, full of surprises and one of the most attractive destinations in Asia. Plan your trip with the list of all best places in Vietnam with InboundVietnam.
1. Joining a Sight-seeing Tour around Can Tho City
1.1. Can Tho Museum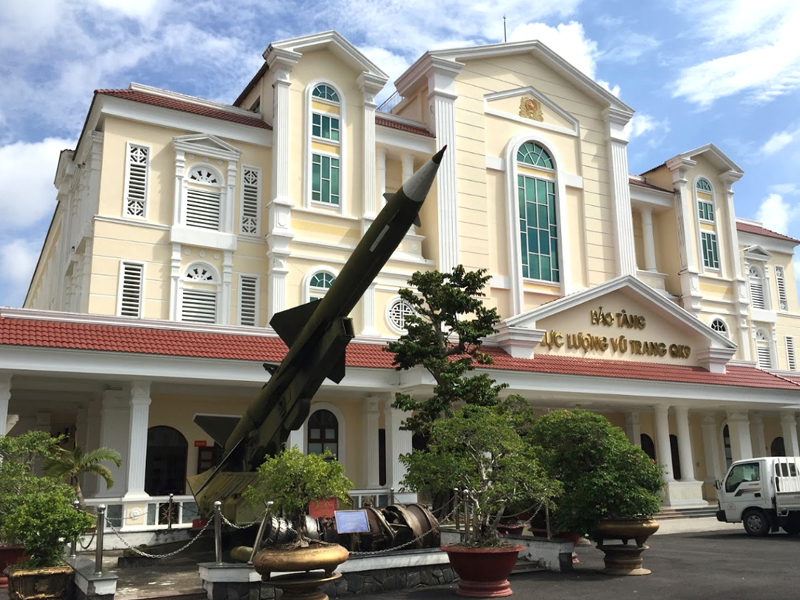 The large, beautifully presented Can Tho Museum brings local history to life with life-size statues and reproductions of buildings, including a Chinese temple and the interior of a house . The displays (with many English translations) focus on Khmer and Chinese communities, plant and fish samples, rice production, and certainly the American War.
1.2. Ong Temple
In a fantastic location facing the Can Tho River and decorated with huge incense coils, this Chinese temple os set inside the Guangzhou Assembly Hall and is the most interesting site in town. It was originally built in the late 19th century to worship Kuang Kung, a deity symbolizing loyalty, justice, reason, intelligence, honor and courage, among other merits.
Approaching the engraved screen, the right side is dedicated to the Goddess of Fortune and the left side is reserved for the worship of General Ma Tien. In the centre of the temple is Kuang Kung flanked by the God of Earth and the God of Finance.
1.3. Munirensay Pagoda
This pagoda was originally built in 1946 to serve the Khmer community of Can Tho. The decoration style is typical of Khmer Theravada Buddhist temples, without many Bodhisattvas and Taoist deities commonly found in Vietnamese Mahayana temples.
2. Visiting Floating Markets
Arguably the delta's biggest draw is the colorful floating markets, which hug the sprawling riverbanks. Most people go to the market early to avoid the daytime heat, so try to visit between 6am and 8am and beat the tourist high tide. However, the tide is actually also a factor, as larger boats often have to wait until the water is high enough for them to navigate.
Improved roads and public transport mean that some of the smaller rural floating markets are disappearing, but many of the larger markets near urban areas are still going strong.
Rural areas of Can Tho province, renowned for their durian, mangosteen and orange orchards, can be easily reached from Can Tho by boat or bicycle.
2.1. Cai Rang Floating Market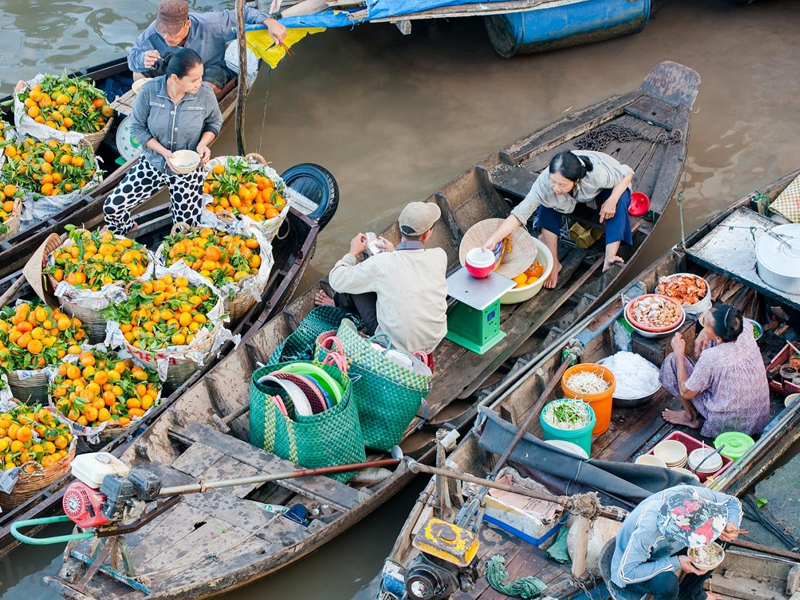 6km from Can Tho towards Soc Trang is Cai Rang, the largest floating market in the Mekong Delta. There is a bridge here that acts as a vantage point for taking pictures. The best market is before 9am, although some street vendors hang out until noon.
It's an experience to witness this in full, but you'd better get up earlier to beat the tour group crowds or you'll likely see almost as many foreigners as market traders .
Cai Rang floating market can be seen from the road, but taking a boat here is much more interesting (US$6). From Can Tho market area, it takes about 1 hour by river, or you can drive to Cau Dau Sau wharf (crossing Dau Sau bridge), from here it only takes about 10 minutes to get to the market.
2.2. Phong Dien Floating Market
Probably the Mekong Delta's best floating market, Phong Dien has fewer motorized crafts and more rowing boats. Less crowded than Cai Rang, also less touristy. It is busiest between 6am and 8am. The market is 20km southwest of Can Tho; Most come here by road.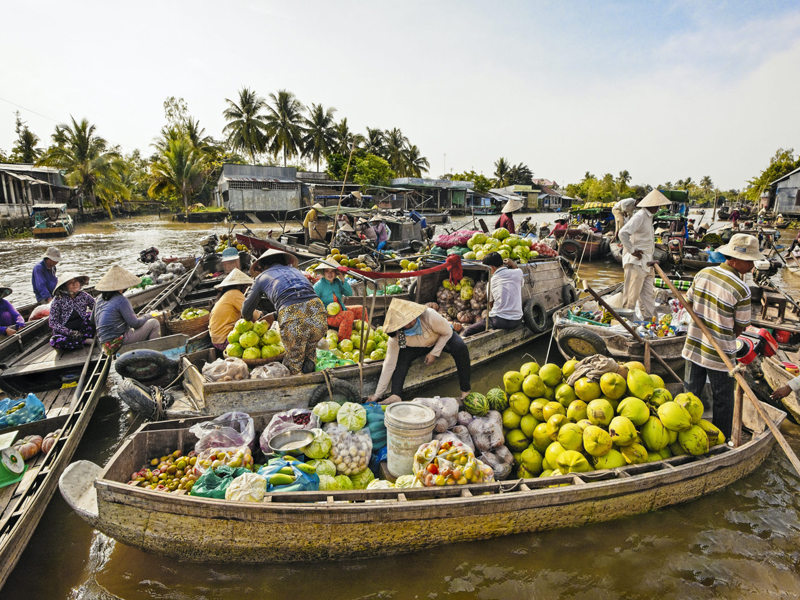 A boat trip here will start at 3:30 am (600,000 round trip), but you need to arrange it the day before. In theory, it is possible to take a whirlpool excursion, visiting small canals along the way and ending at Cai Rang floating market. This journey will take about five hours to return from Can Tho.
For smaller boat trips (US$4 an hour), the operator can be found along the riverside Hai Ba Trung Street, but check the boats first; A quicker alternative is to take a motorbike taxi or taxi and then rent a boat at the other end.
3. Bird-watching in Bang Lang Stork Sanctuary
Located on the road between Can Tho and Long Xuyen, Bang Lang (also known as Vuon Co) is a magnificent 1.3 hectare bird sanctuary with thousands of storks residing. There is a high station to watch the herd of storks perched full of branches; it's an absolutely incredible sight (best time of day is around sunrise and sunset).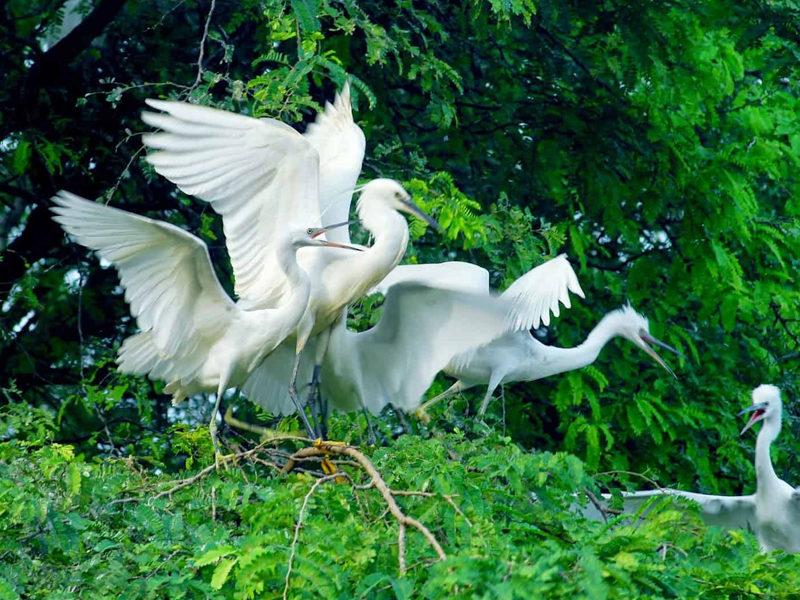 Bang Lang is located in Thot Not district, about 15km southeast of Long Xuyen. Look for a signboard in Thoi An hamlet that says "Ap Von Hoa". From Can Tho, the sign is on the west side of the road, right behind a small bridge. A few kilometers from the main highway - you can walk within 30 minutes or you can rent a motorbike taxi for about 20,000 VND.
>>> Many destinations in Can Tho for you at: https://inboundvietnam.com/tour-travel-can-tho
Articles same category
Neighboring countries: China to the north, Cambodia to the southwest and Laos to the west. The South China Sea borders the country to the east.
With many activities taking place such as singing and dancing, boat racing, street parades, etc., creating special features for festivals in Vietnam.
You are about to have a trip to Sapa in Vietnam, and here are the 15 most interesting Sapa discovery activities for you.