8 Top-Rated Tourist Attractions in Ho Chi Minh City
Date Submitted: 17/08/2021 - 78,132 - View
Tourist attractions in Ho Chi Minh City, don't miss if you have a trip to Vietnam.
Still often referred to by its old name, Saigon, Ho Chi Minh City is a clamorous, chaotic sensory feast. Motorbikes honk in a tidal wave across clogged intersections, locals crouch on street corners slurping steaming hot bowls of Pho (noodle soup); and the sultry air is thick with exhaust fumes and exotic spices.
Ho Chi Minh City is Vietnam's largest city and commercial center, and a place where the old meets the new with striking contrasts. Temples are clustered among skyscrapers and designer shops; local people drop bamboo fishing rods into the Saigon River languidly; and in places, the city has an almost European feel, with elegant French colonial architecture and wide tree-lined streets.
Adding to the fascinating cultural jolt is a clutch of intriguing tourist attractions, from the poignant War Remnants Museum and captivating water puppet shows to colorful markets and the time warp of the Reunification Palace.
Not far from the city, the famous Cu Chi tunnels are a must-see attraction, and the lush waterscapes and small villages of the Mekong Delta provide a fascinating glimpse of rural life.
For more ideas on the best places to visit and the most rewarding things to do, read our list of the top attractions in Ho Chi Minh City.
This fascinating country is full of surprises and is one of Southeast Asia's most highly rated destinations. Plan your tour with our list of the best places in Vietnam with InboundVietnam
1. Cu Chi Tunnels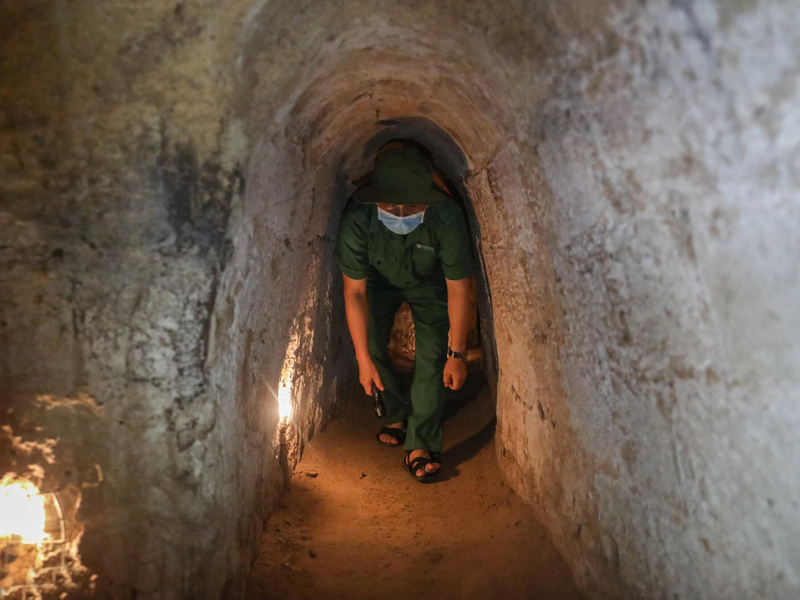 About 60 kilometers from Ho Chi Minh City, the Cu Chi Tunnels are a must-visit half-day trip and one of the top tours for visitors to the city. This vast network of tunnels over 250 kilometers long served as a base for Viet Cong military operations during the Vietnam War. Soldiers used the extremely cramped tunnels as shelters, hospitals, communication bases, supply lines, and even shelters.
A visit usually includes the chance to crawl through part of the tunnel network, an experience that enhances your appreciation for the stamina and adaptability of the soldiers who lived here. Even if you're not a fan of modern military history, the tunnels offer powerful insight into the conditions faced by troops during the conflict and the strategies that strengthened the VC's resistance against American forces.
2. War Remnants Museum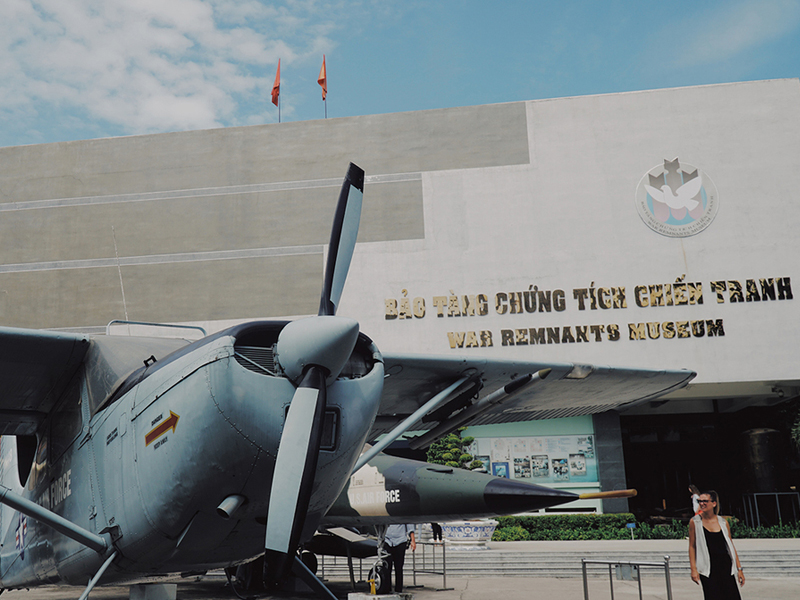 The War Remnants Museum is one of the most popular museums in Vietnam, with harrowing exhibits related to the horrors of war in this battle-worn nation. The museum primarily focuses on the Vietnam War, however, some exhibits relate to the first Indochina War with French colonialists.
You should start at the top floor and work your way down, so you can enjoy your experience with the lighter exhibits on the ground floor.
Most of the displays are photographic images, and some of these are confrontational - especially the graphic photographs of child Agent Orange victims. Artifacts on display include a guillotine and a "tiger cage" used for Viet Cong prisoners.
Many argue that the museum's approach is biased; however, the exhibits poignantly portray the brutality of war. The museum also includes a fascinating display on the work of war photographers, from both sides, who lost their lives during the conflicts.
Period military vehicles and weapons are displayed in the museum's courtyard. After touring the countryside and the Cu Chi Tunnels, you'll find these exhibits even more moving, but note that some of the exhibits are not suitable for small children.
Address: 28 Vo Van Tan, Ward 6, District 3, HCMC
3. Mekong Delta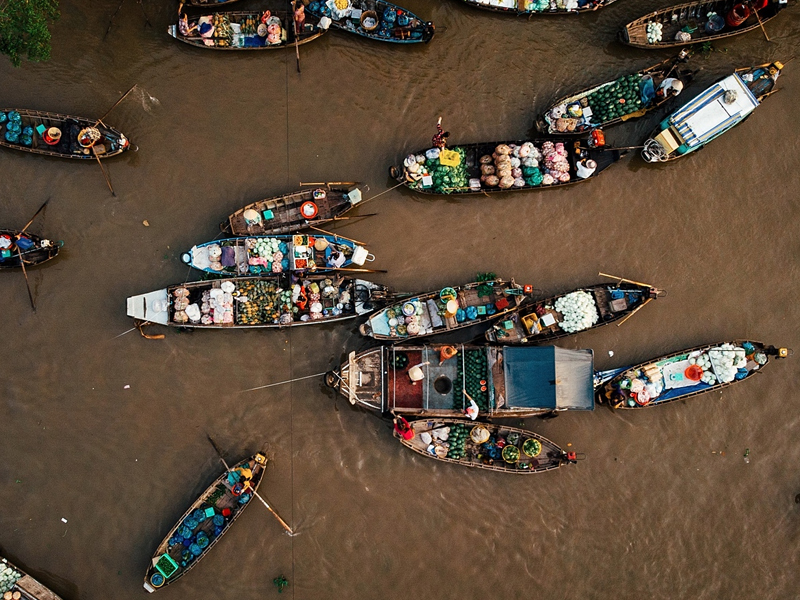 Cruising through the lush maze of canals, rivers and palm-fringed islands in the Mekong Delta is a popular day trip seemingly away from the bustle of Ho Chi Minh City. It offers a fascinating glimpse into the way of life of those who depend on this fragile waterway for survival.
Covering an area of ​​about 40,000 square kilometers, this delta produces more than half of the grain and 90% of the country's exports, and it is famous for its floating markets that often take place early in the morning.
From Ho Chi Minh City, tours to the delta, usually a 70 km ride to My Tho, a town on the banks of the Mekong River; a journey along the delta; and visit local villages, farms and factories
4. Golden Dragon Water Puppet Theatre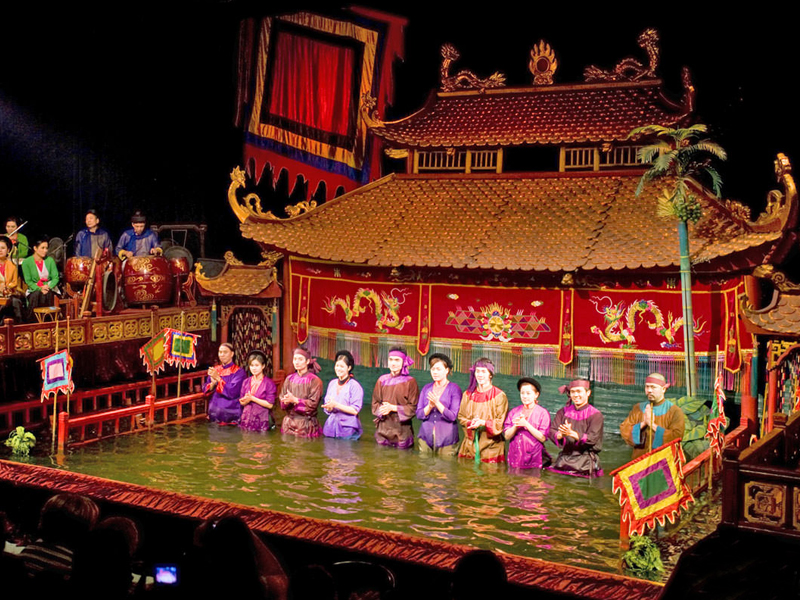 The Golden Dragon Water Puppet Theatre is perfect for families with young children and anyone who enjoys light-hearted traditional entertainment. Water puppetry originated in rural villages in the Red River Delta and has been performed in Vietnam for more than 1,000 years.
The captivating 50-minute show provides a window into the country's culture. It's presented in Vietnamese, but the strength of the puppet characters, both people and animals, transcends the language barrier.
Live music enhances the experience; the talented musicians play traditional instruments such as bamboo flutes and two-stringed violins. The theater is air-conditioned, and if you're sitting in the front row, be prepared for some gentle splashes.
Address: 55B Nguyen Thi Minh Khai Street, Ben Thanh Ward, District 1, Ho Chi Minh City
5. Saigon Opera House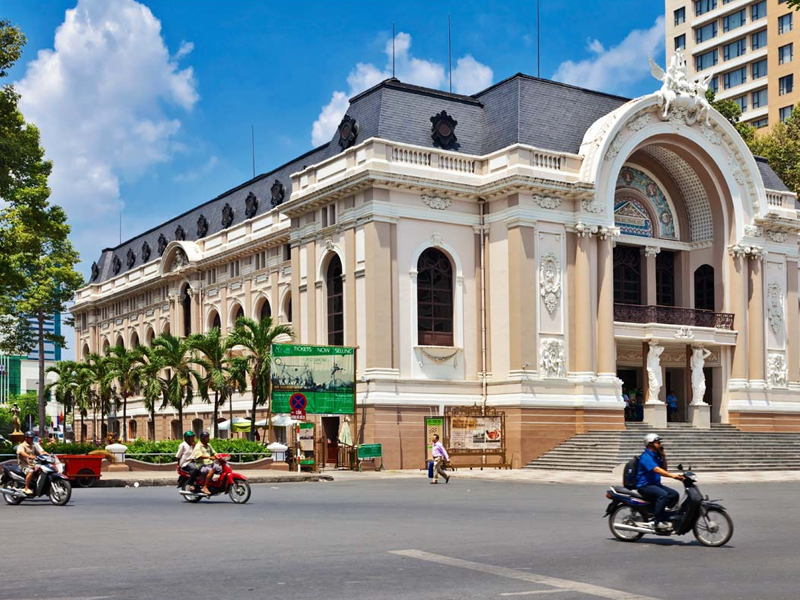 Also known as the Opera House of Ho Chi Minh City, the elegant Saigon Opera House, located at the very beginning of the famous tree-lined Le Loi Boulevard, is a draw for architecture buffs - especially those who love architecture. French colonial style fans. It was built as Opera de Saigon in 1897 by Eugene Ferret, a French architect, for a French colonial reception, and its striking façade is in the style of the Petit Palais, built the same year in Paris.
After 1956, the building was used as the home of the Lower House assembly of South Vietnam and again became a theater in 1975, after the fall of Saigon. The only way to see the theater's interior is to purchase a ticket to a show.
Both the Ho Chi Minh City Ballet Symphony Orchestra and Opera perform here, and tickets are available at the box office or local travel agents. In the area around the opera house are some of the city's new shopping malls and exclusive hotels. You can also combine a visit here with the nearby Notre Dame Cathedral and Reunification Palace.
Address: 7 Lam Son Square, Ben Nghe Ward, District 1, Ho Chi Minh City
6. Notre Dame Cathedral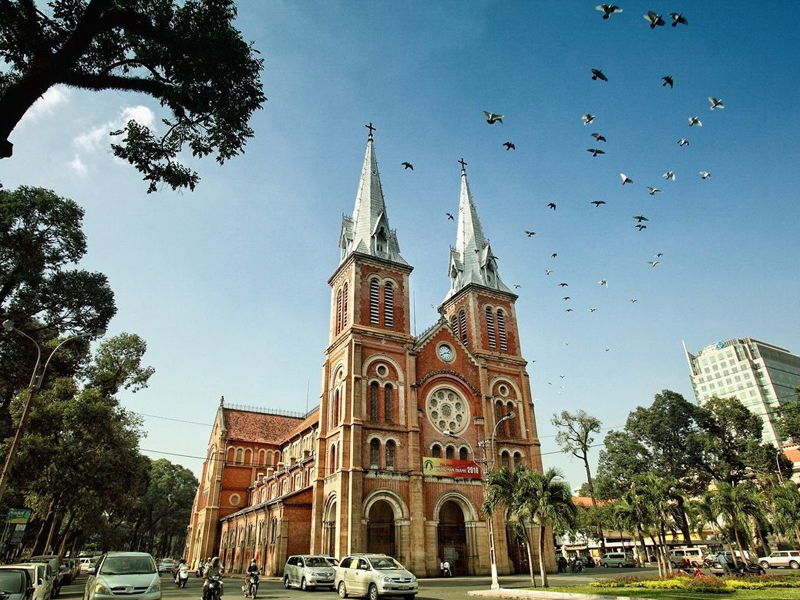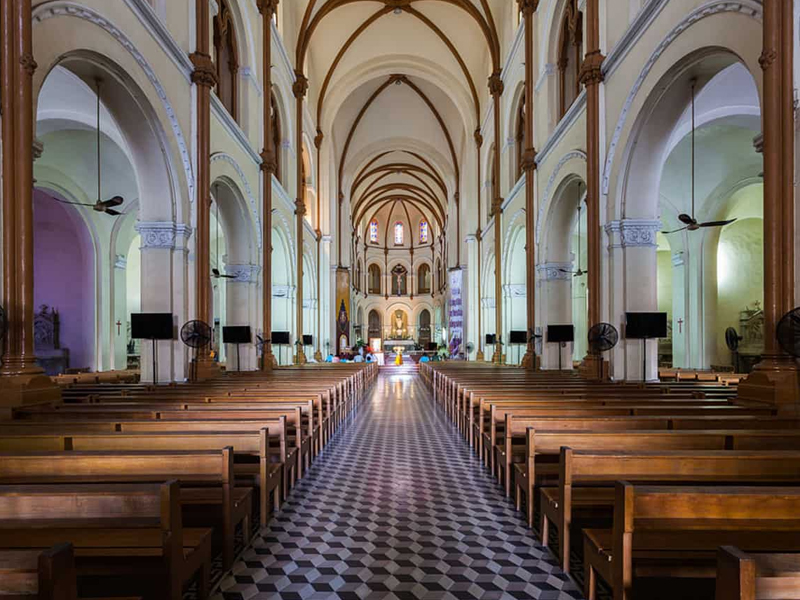 Notre Dame Cathedral is a short name for Notre Dame Cathedral in Saigon, officially known as the Basilica of Our Lady of the Immaculate Conception. Located at the Paris Commune Square, Ben Nghe Ward, District 1, City. Ho Chi Minh.
Considered a symbol of the city, Notre Dame Cathedral is a unique work, attracting the most tourists of Saigon. After many years of war, the church still retains its ancient and impressive architecture as at the beginning
Address: Notre Dame Cathedral Basilica of Saigon, Ben Nghe, city. Ho Chi Minh, Ho Chi Minh
7. Ben Thanh Market & Saigon Square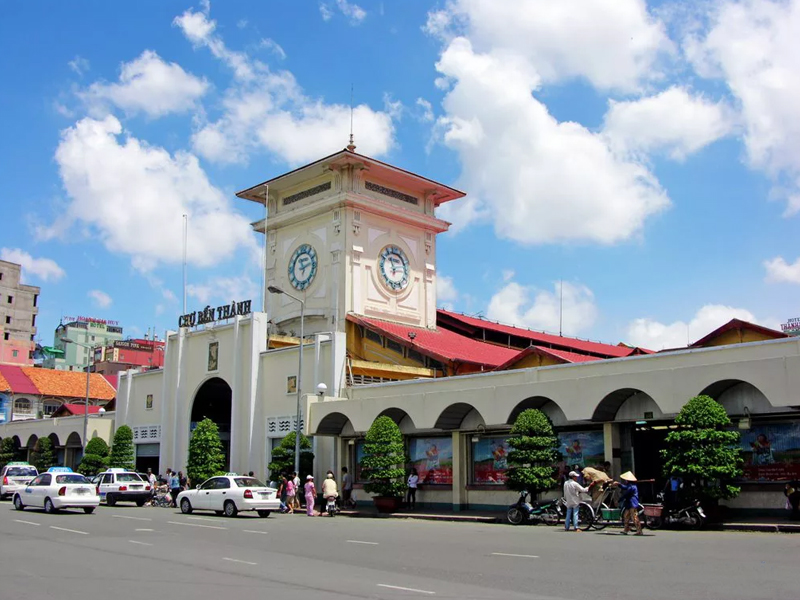 For those who visit, the hot and bustling Ben Thanh Market is almost a must-stop, even if only to witness the crowded stalls and chaos of the market. The stalls are stacked high with everything from local delicacies, fish, flowers and tropical fruits to shoes, clothes, colorful sweets and souvenirs. Markets are also notorious for pickpockets, so make sure any valuables are safe and out of sight.
After soaking up all the ambiance, head to Saigon Square, about a three-minute stroll away, for a slightly less frenetic shopping experience with the added bonus of air conditioning. Here, you'll find fantastic deals on everything from clothing and backpacks to jewelry and shoes. Haggling is customary at both locations.
Address: 32-30, 36-34-32-30 Phan Boi Châu, Ben Thành, Ho Chí Minh City
8. Reunification Palace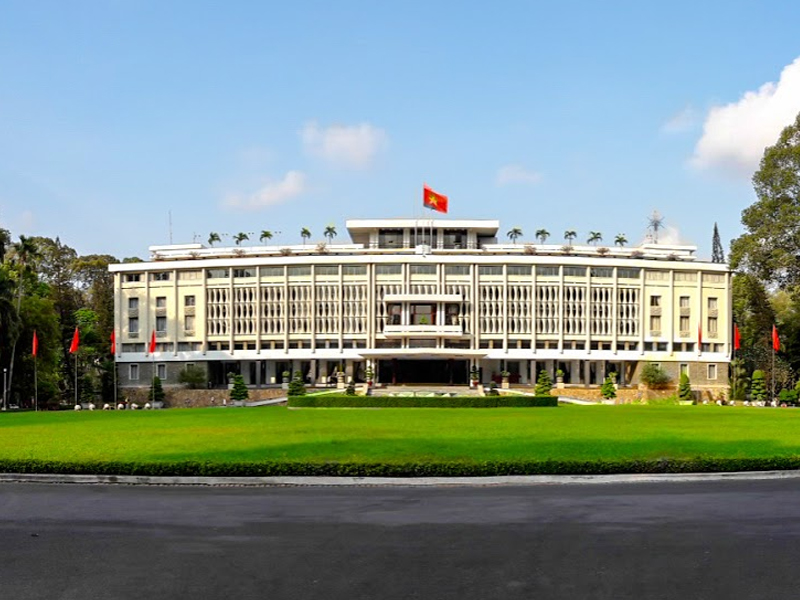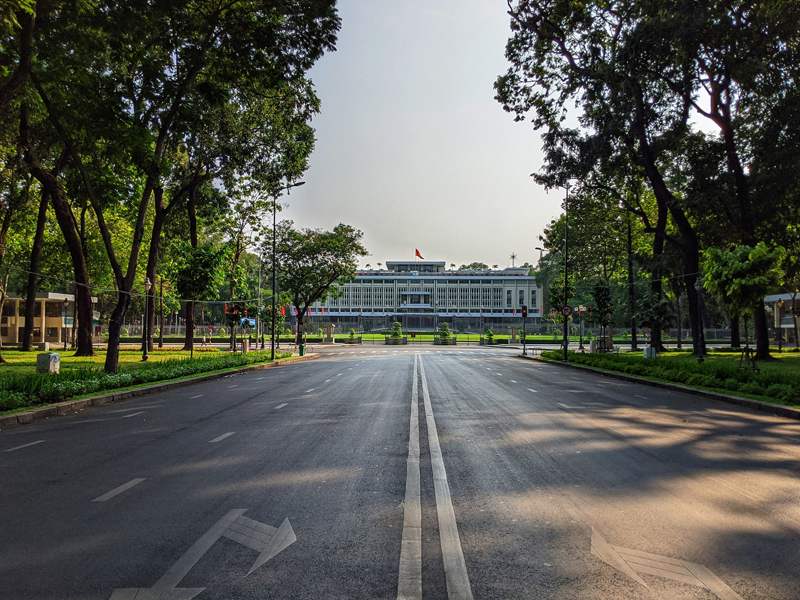 Independence Palace or Reunification Hall (Dinh Norodom) is an architectural work and building in Ho Chi Minh City . This used to be the residence and working place of the President of the Republic of Vietnam . Currently, the palace has been classified as a special national monument by the Vietnamese Government .
Dinh tọa lạc ngay vị trí trung tâm, gần các điểm đến hấp dẫn: Nhà thờ Đức Bà, công viên 30/4, Bưu điện thành phố,… Trải qua hơn 100 năm, nó vẫn sừng sững ở đó với vẻ đẹp cổ kính và ẩn chứa biết bao bí mật, là một phần không thể thiếu khi nhắc đến cái tên Sài Gòn.
Address: 135 Nam Ky Khoi Nghia Street, District 1, Ho Chi Minh City
INBOUNDVIETNAM TRAVEL is recognized by the Vietnam Tourism Association as a Top Tour Operator and Service Provider of Visa, Work Permit, Permanent Residence Card and nominated for the Vietnam Trusted Travel Company award.
Many destinations in Ho Chi Minh City for you at: https://inboundvietnam.com/tour-travel-ho-chi-minh
Articles same category
Neighboring countries: China to the north, Cambodia to the southwest and Laos to the west. The South China Sea borders the country to the east.
With many activities taking place such as singing and dancing, boat racing, street parades, etc., creating special features for festivals in Vietnam.
You are about to have a trip to Sapa in Vietnam, and here are the 15 most interesting Sapa discovery activities for you.