Temporary guidance on piloting international tourists to Vietnam
Date Submitted: 08/11/2021 - 6,564 - View
Temporary guidance on piloting international tourists to Vietnam. Plan your trip in Vietnam.
The pilot roadmap start in November 2021
The pilot will be applied to international tourists who use package tours, charter flights or international flights to selected areas and tourism establishments in Phu Quoc (Kien Giang Province), Khanh Hoa Province, Quang Nam Province, Da Nang City and Quang Ninh Province.
Requirements for international tourists (including overseas Vietnamese) coming to Vietnam
1. Vaccinate: Having a certificate of a full dose of COVID-19 vaccine recognized by a competent authority in Vietnam (except for children under 12 years old traveling with parents or guardians). The duration of injection of the 2nd or 1st dose (for the 1 dose vaccine) is valid for 14 days and not more than 12 months from the time of departure. They can also have recovery from COVID-19 within 6 months or equivalent documents, issued by authorised agencies recognized by Vietnam
2. Negative test: Having negative COVID-19 certificates using RT-PCR/RT-LAMP method, issued by authorized agencies within 72 hours before departure.
3. Insurance: Have health or travel insurance that covers COVID-19 expensive with a minimum liability of USD$50,000.
4. Package tour: Using package tour of travel agencies.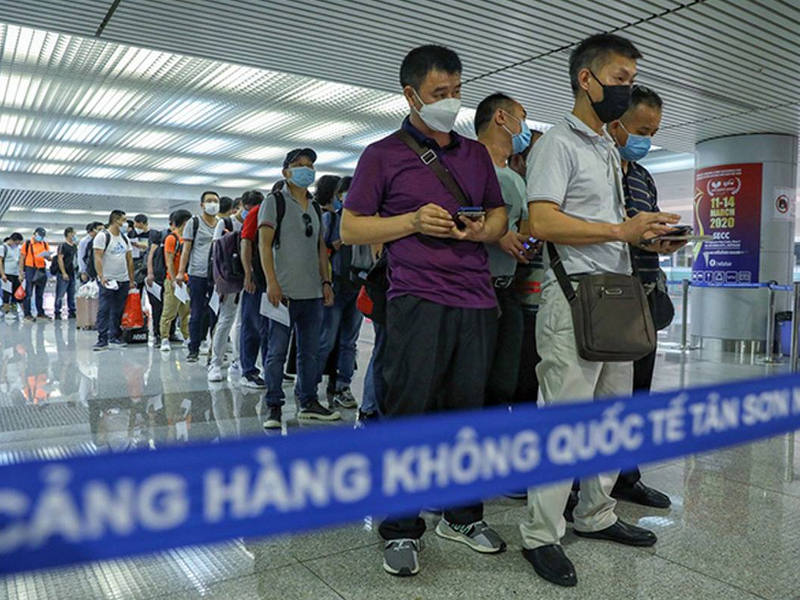 Tour programs
Tourists have to choose a package tour of an international travel agency including information of flight, accommodation, tourist services and schedule (90 days maximum).
Day 0-1: Travel agency welcomes tourists and transport to the accommodation establishment. Tourists will be COVID-19 tested. If positive result, go to medical establishment.
Day 1-7: Tourists could join tour program, ensure compliance with "5K Message" and pandemic control measures by health authorities. Quick COVID-19 tested by themselves every 2 or 3 days.
Day 7+: If tourists receive COVID-19 negative test using RT-PCR/RT-LAMP method, they can visit other destinations that be allowed to welcome international tourists. Oversea Vietnamese would like to visit their family outside tour program, they have to fill the registration form and obey pandemic control measures.
Besides that, the provisional guidance also outlines procedures and processes related to personnel review, visa issuance, pre-flight preparation, immigration procedures and the process of tour program in Vietnam.
Source: Vietnamtourism
>>> See more: Immigration and medical conditions for international visitors to Vietnam
Articles same category
Neighboring countries: China to the north, Cambodia to the southwest and Laos to the west. The South China Sea borders the country to the east.
With many activities taking place such as singing and dancing, boat racing, street parades, etc., creating special features for festivals in Vietnam.
You are about to have a trip to Sapa in Vietnam, and here are the 15 most interesting Sapa discovery activities for you.