Travel Tips to Vietnam
Date Submitted: 28/06/2021 - 75,421 - View
Neighboring countries: China to the north, Cambodia to the southwest and Laos to the west. The South China Sea borders the country to the east.
Neighboring countries: China to the north, Cambodia to the southwest and Laos to the west. The South China Sea borders the country to the east.
Area: 331 690 km²
Population: 98.155.755 million (Dec 2020)
Capital: Hanoi
Time Zone: GMT+7 hours. Daylight saving time (DST) is not implemented in Vietnam.
Religion: Buddhists (75 %), Catholics (8%), Caodaïstes (2 %), Hoa Hao (2%), Protestants (0.75%), Muslims (0.1%)
Language: Vietnamese
Currency: Vietnamese Dong VND ($1 = 22,870 VND – July 2021)
Visa and Travel permission: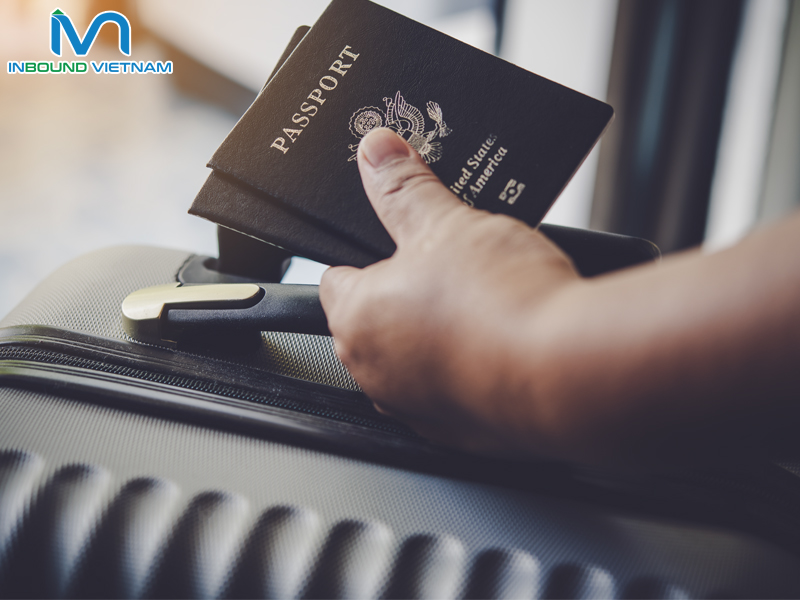 Visa Exemption
We are pleased to announce that the Government of Vietnam has agreed to extend a 3-year Visa Exemption period for British, German, French, Spanish, and Italian citizens, which will come into effect from 1st July 2018 and run until 30th June 2021. This unilateral visa exemption is being granted by Vietnamese Authorities to citizens from these countries in order to promote tourism in Vietnam.
Conditions
According to Vietnam immigration law, to be eligible for visa exemption, a traveler's passport must have at least six months validity.
This visa exemption is able to be applied for entries at all official international border checkpoints.
Length of stay in Vietnam is to not exceed 15 days from the date of entry and is for a single entry visa. If length of intended stay is more than 15 days, then the traveler is not eligible for exemption and will still require a Vietnam Visa in the normal manner.
Travelers wishing to enter Vietnam using this visa exemption will need to show their return air ticket. Travelers who enter via a land border checkpoint or by cruise are not required to apply for a Vietnam Visa in advance.
For those who have visited Vietnam before, this new entry date must be over 30 days since the previous exit date in order to re-enter with visa exemption. Travelers who exit Vietnam to another, third country (but not their home country) and then return to Vietnam within 30 days from their exit date may apply for a Visa on Arrival directly at the airport without the normal Visa Pre-Approval letter. The validity of this Visa on Arrival will be according to the return date on the flight ticket, but no more than 15 days.
Procedure
A traveler's entry into Vietnam: go ahead to the immigration booth to complete quarantine and immigration procedure with passport and return ticket ready. Airport customs police will stamp 2 checks to their passport: 1 stamp at entry point and the second stamp for the time that visitors are allowed to stay (day of entry plus 15 days).
Electronic Visa (E-visa)
The Vietnamese government released a directive detailing an e-visa pilot program that would take effect from February 1, 2017. The two-year program states that citizens from 46 countries are eligible for electronic visa applications, including the United Kingdom and the United States. The application can be processed through the Website: https://evisa.xuatnhapcanh.gov.vn/
The e-Visa is an electronic travel authorization from the Vietnam Government for up to 30 consecutive days, issued in PDF format. It is the equivalent to a visa, but no stamp or label is placed in the passport. Visitors with e-Visas can touch down at any of Vietnam's eight international airports, including Tan Son Nhat in Ho Chi Minh City, Noi Bai in Hanoi and Danang in the central region. They can also arrive via land at 13 international border gates, and via sea at seven ports across the country.
Applicability
Travelers who do not belong to the list of visa exempt countries like Switzerland, Ireland, and so on (around 30-50 countries).
Travelers who are from visa-exempt countries but wish to apply for a multiple-entry visa.
For example: A traveler who holds a French citizenship applies for entry twice, each of which is less than 30 days, separate. For the first time, he/she is granted with visa exemption. And then for the second time, he/she can apply for e-Visa or vice visa.
Inapplicability
Travelers who are under bilateral admission for visa exemption (within ASEAN countries) for a minimum stay of 30 days.
Travelers who are under Vietnam unilateral admission for visa exemption:
Japan, Korea, Russia, Norway, Sweden, Denmark, Finland: visa exemption for 15 days (apply from January 1st, 2015 – December 31st, 2019)
France, Spain, Germany, UK, Italy: visa exemption for 15 days (apply from June 30th, 2016 – June 30th, 2021)
Belarus: visa exemption for 15 days (apply from July 1st, 2015 – June 30th, 2020)
Travelers who apply for entry through international road gates like Tịnh Biên, Mộc Bài and so on (since the facilities there do not allow them to process the e-Visa acceptance).
Travelers who are from "sensitive" countries like Pakistan, Turkey, Nigeria, some Muslim and African countries, and so on.
Travelers from countries/territories those are excluded from the e-Visa admission list.
Remarks
Travelers who can apply for an e-Visa but have already had the immigration department dispatch will be able to choose between continuing with the regular visa procedure or converting to the e-Visa. However, it is advised that travelers should consider changing to the e-Visa application to reduce the visa fee. This conversion would take a little more time as the submission process has to start over again.
The traveler will need to present a printed copy of the e-Visa (with Vietnamese national code and QR code) along with passport upon entry to Vietnam.
The visitor should re-check the permitted time of residence on the stamp (with "EV" sign) at the Immigration Booth in case the officer forgot to stamp the time into the visa exemption.
The visa fees is published as follows:
Single-entry: 25 USD
Multiple-entry from 1- 3 months: 50 USD
Multiple-entry from 3 – 6months: 90 USD
Multiple-entry from 6 – 12 months: 135 USD
Important notes:
Visa fee for foreign children under 14 years old shall not be different; the entry fee is 25 USD (Circular 219/TT – BTC 10/11/2016). Example: The traveler under the age of 14 who visits Vietnam with a 1-month multiple visa will only pay 25 USD instead of 50 USD for a visa, as opposed to the traveler who is older than 14 years old.
Russian citizens are offered a free 15-day visa for visa on arrival and a visa obtained at an embassy (applicable to Russian citizen holding an official passport), but must pay the online fee for an e-Visa.
For citizens who must apply for visa/visa on arrival.
Apply for a Tourist Visa From your home country: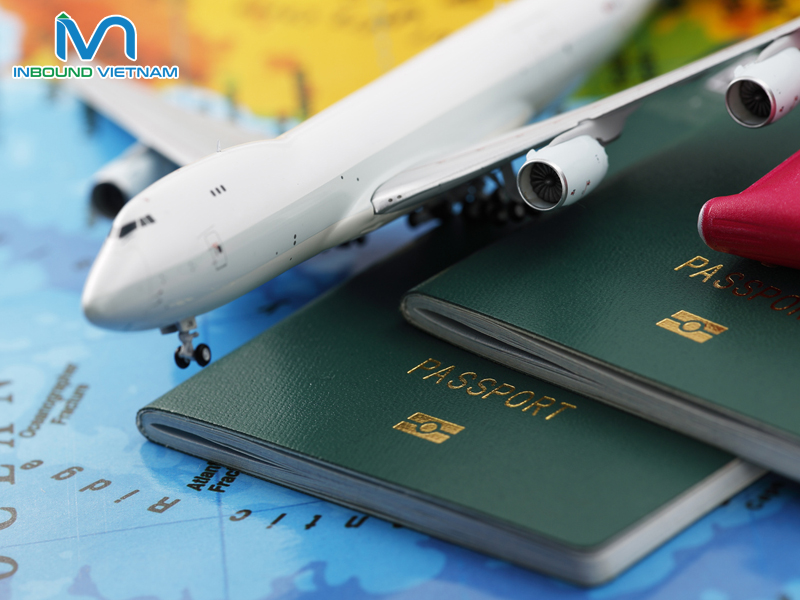 The standard visa is a tourist visa, valid for a 1-month stay, or the tourist visa, valid for a 3-month stay. You can apply for a tourist visa at the Vietnamese embassy in your country. Be aware that your passport must be valid for 6 months beyond the last day of your stay in Vietnam and that you must have one blank page left for the visa stamp.
To apply for a visa, you must fill in a form (1 copy) that you can download from the website of the embassy of your country (or that you can collect at the embassy), 2 identity photos (recent one: less than 6 months old) and your passport. Then, you have to go to the embassy with all the papers and the money for the visa fee. In some countries, you may be able to apply for the visa via post by sending all the papers, a money order, and your passport together with a second envelope with your home address on it (to have your passport sent back to you) to the embassy. The embassy will send your passport back with the visa stamp inside. Check with your local Vietnamese embassy.
With our assistance, obtain a visa on arrival at one of the international airports in Danang, Hanoi, or Ho Chi Minh City
InboundVietnam Travel can take care of the visa procedure upon your arrival at the following airports: Hanoi, Danang, and Ho Chi Minh City. Just follow the procedure described below.
Procedure for visa on arrival: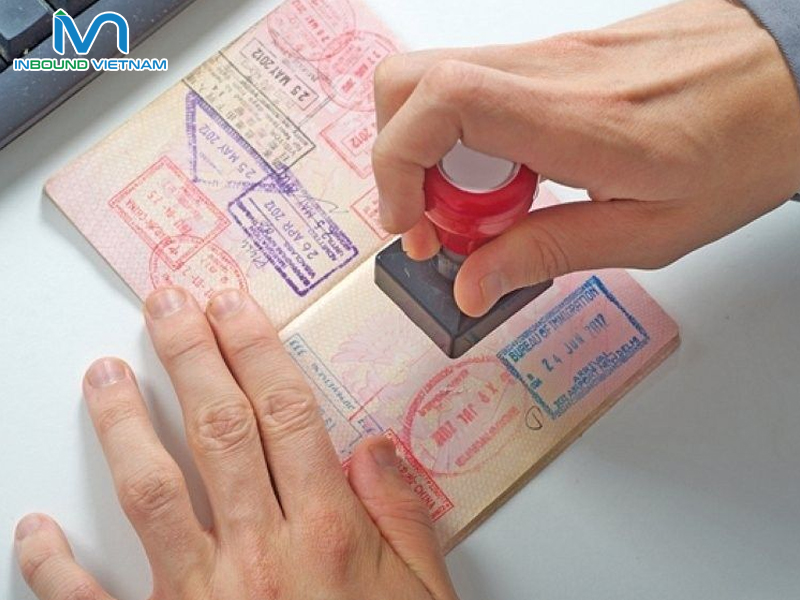 Requirements:
Make sure each passport has two blank pages for the necessary visa stamp available.
Validity of passport: In Vietnam, a passport must be valid 1 month after the date of departure from Vietnam; for other Asian countries, passport must be valid at least 6 months after the planned date of departure from Asia.
The traveler's passport number must appear on all documents: the excel file and visa forms.
Step 1. Request for Visa authorization:
Take note of the information on the travelers' passports: full name, date of birth, nationality, passport number, date of issue, etc. This information must reach us at the following address at least 21 days before the date of the travelers' departure:
This information is required by the Ministry of Public Security in Vietnam for a visa application. The time limit to obtain a visa is 24 hours for an urgent procedure with an added surcharge applied or 5 working days for normal tourist visas.
If you do not use a computer, kindly send to us a copy of your passports with legible passport number by mail.
It is important to indicate clearly the specific airport in Vietnam where travelers will get their visa including: airline, time, date, and number of the arrival flight.
Our head office in Hanoi will send you the visa permit by fax and/or by email.
Step 2. Fill in the NA1 forms of visa request:
At the same time, each of the travelers must fill in one (1) form NA1, a visa request, on which they must attach a recent identity photo (less than 6 months old). Photocopies of photos are not accepted.
Attention: It is very important to use the same passport number on the excel file and on the form of the visa request. You must keep this form which will be requested at the time of checking-in at airports and on arrival in Vietnam.
Do not send the NA1 form to the embassy of Vietnam in your country; keep this document with you.
Step 3. Regularization of passports:
When you check-in at the departure airport, you will have to show a copy of the authorization, NA1 form (completed with a photo attached) and your passport. Warning: if you do not have the authorization letter to show the airline check-in staff, you will not be permitted to board the plane.
When you arrive in Vietnam, you will have to present yourself along with the NA1 form to the visa upon arrival desk, before proceeding to the immigration desk.
At this point in the process you have several possible choices:
– You can do everything by yourself: prepare the money and pay for your visa. In VND or preferably in USD. Paying in Euros is possible, but not encouraged.
– You can ask for help from our staff (pre-arranged): our staff will wait for you at the airport within the immigration area with a board showing your name and will take care of the whole process with the immigration service. Your passport will be stamped when going through immigration. You won't have anything to pay at the airport. After, you will be able to collect your luggage at the luggage belt before proceeding through customs.
Visa VIP B: Same service as above, but the process is much faster, as you won't queue, and will take a private way to the luggage belt where you will be able to collect your luggage. Time: about 5-10 minutes (versus 60 minutes)
Visa VIP A: In this case, you won't have anything to do and will go directly to your hotel room. Our staff will take care of the visa process and will collect your luggage (you have to give us information about it) and will bring it to you. This service is only available at Noi Bai International Airport in Hanoi.
President VIP Visa: Our staff will wait for the traveler directly outside the plane with a car to go to the hotel. Our staff will take care of the visa process and will collect the luggage to bring them to the hotel. This service is only available at Noi Bai International Airport in Hanoi.
Note: For children under 12 in Vietnam:
If a child is present on his/her parents' passport, the child won't have any fee, but it is still necessary to give all the information about him/her in order to apply for a visa authorization.
Special cases:
Multiple Entry Visa:
If the traveler has to exit Vietnam and re-enter the country several times during their stay, they will have to apply for a multiple entry visa.
When the multiple visa is granted, the traveler can enter Vietnam as many times, without limitation, as the number of entries or the length of stay for each entry within the granted visa allows.
Transit Visa
Following the Law No. 47/2014/QH13 on entry, exit, transit, and residence status of foreigners in Vietnam, which takes effect on 1st Jan 2015, transit through Vietnam is dictated as follows:
Foreigners that travel by air are required to obtain the Official Transit Dispatch by Vietnam Immigration Department.
Maximum length of stay is 72 hours.
Requirements for entry and exit and 1 international airport gate. Does not apply to land border gates.
The visitor must be traveling to a third country, which cannot be the country of arrival (for example, from Bangkok to Hanoi to Singapore – the visitor cannot travel back to the country they started in, like Bangkok to Hanoi to Phuket).
URGENT VISA
If by some chance you do not have any authorization or visa before arriving in the country, InboundVietnam Travel can take care of the situation upon your arrival at the airport. Some fees will be charged over and above the usual fees for this service.
For citizens of "sensitive" nationalities: For example, Iran; Iraq; Sri-Lanka; Kenya; Turkey; Bangladesh; Jordan; Pakistan; Syria; Togo; Saudi Arabia; Samoa; Nigeria; Lebanon; Yemen; Ecuador, Turkish, and Bangladesh:
The same procedure as "normal" nationalities applies, but instead of providing only the information on the participant's passports, such as full name, date of birth, nationality, passport number, date of issue, etc., the travelers must also have the documentation outlined below to obtain the Visa authorization:
A scan of the passport
Confirmation of hotels booked during the entire stay
Confirmation of international and domestic airline tickets for the entire trip
The tour programs
Guaranteed document by the travel agency
The last 4 documents can be provided by InboundVietnam Travel.
The fee for the service will be higher (about 80 USD in addition to the normal fee). The time to obtain the visa authorization is also longer (about 10 working days).
LAND BOARD CHECK-POINTS
A Visa for Vietnam can be obtained during your visit to some border posts. You will find the list of land border checkpoints below. However, we strongly advise all travelers to take care of Visa formalities in advance:
Hekhou – Lao Cai (Yunnan to Lao Cai Province)
No visa on arrival
Friendship pass (Guangxi to Lang Son Province)
Visa on arrival
Panghok – Tay Trang (Phongsaly Province to Dien Bien)
Visa on arrival
Namsoi – Na Meo (Huaphanh to Thanh Hoa Province)
Visa on arrival
Namkan – Nam Can (Xieng Khoang to Nghe An Province)
Visa on arrival
Nampao – Keo Nua (or Cau Treo) (Bolikhamxay to Ha Tinh Province)
Visa on arrival
Napao – Chalo (Khammouane to Quang Binh Province)
Visa on arrival
Dansavanh – Lao Bao (Savannakhet to Quang Tri Province)
Visa on arrival
Attepeu – Bo Y (Attapeu to Kon Tum Province)
No visa on arrival
O'Yadaw – Le Thanh (Rattanakiri to Gia Lai Province)
No Visa on arrival
Trapeang Srer – Hoa Lu (Kratie to Binh Phuoc Province)
No visa on arrival
Trapeang Phlong – Xa Mat (Kompong Cham to Tay Ninh Province)
No visa on arrival
Bavet – Moc Bai (Svay Rieng to Tay Ninh Province)
Visa on arrival
Khaam Samnor – Vinh Xuong (Kandal/PNH to Chau Doc)
Visa on arrival
Phnom Den – Tinh Bien (Takeo to An Giang Province)
Visa on arrival
Preah Chak – Xa Xia (Kampot/Kep to Ha Tien)
No visa on arrival
Phu Quoc Island Visa Regulation
According to overseas entry, exit, and residence regulation for Phu Quoc Island, foreign visitors and Vietnamese nationals holding foreign passports are permitted to stay on the island without a visa for not more than 30 days. Foreigners who come to Vietnam via an international border (including land, air or sea), stay at transit area at the gate, and then travel on to Phu Quoc Island are also exempt from visa requirements in accordance with this regulation.
The above information is provided to the best knowledge of Easia Travel specialists and will be updated regularly.
Access and Transportation
BY AIR
Traveling to Vietnam by air is quite easy as many airlines offer direct or indirect flights and more and more airports in Vietnam are open to international destinations. Today, the international airports are: Noi Bai in Hanoi, located around 45 minutes from the city-center (45km), Cat Bi in Hai Phong, Danang airport only 4km from the city-center, Cam Ranh located at around 40 minutes from Nha Trang city-center (30km) and Tan Son Nhat located just 20 minutes from the center of Ho Chi Minh City (6km).
BY LAND
You can also travel to Vietnam by land, with the bus being the best means of transport to travel from Cambodia or Laos for example. Vietnam has land borders with China, Laos and Cambodia.
Land borders China/Vietnam: (you must have a visa before going through immigration and customs)
Mong Cai (Quang Ninh) – by land: located at the northeast end of the country, this land border is accessible by road.
Huu Nghi (Lang Son) – by land: located 18 km from Lang Song city.
Dong Dang (Lang Son) – railway
Lao Cai (Lao Cai) – by land or railway: accessible by train from Hanoi, the route goes via the Hekou bridge.
Land borders Laos /Vietnam (land): (visa available at most land borders)
Cau Treo (Ha Tinh): located 80 kilometers from the city of Vinh on the route to Vientiane (Laos' capital city).
Cha Lo (Quang Binh): in Dan Hoa province, accessible via the road 12A from Ba Don – Quang Binh province.
Lao Bao (Quang Tri): at 150 km of Hue, on the route to Savannakhet in the South of Laos.
Tay Trang (Dien Bien Phu) : from Diên Biên province
Na Meo (Than Hoa)
Nam Can (Nghe An)
Bo Y (Quang Toum)
Land borders Cambodia /Vietnam: (visa available at most land borders).
Moc Bai + Sa Mat (Tay Ninh) : at 70km from Ho Chi Minh this land border is accessible by bus and taxi and is located on the route between Ho Chi Minh and Phnom Penh (capital city of Cambodia)
Vinh Xuong + Tinh Bien (An Giang): enables access directly to the Cambodian seaboard.
Bo Nue (Binh Phuoc)
Thuong Phuoc (Dong Thap)
Xa Xia (Kien Giang)
TRANSPORT IN VIETNAM
BUS
Taking the bus is the cheapest way to travel around cities like Hanoi, Ho Chi Minh, Da Nang, Nha Trang etc. The tickets usually cost 10.000 dong ($0.45)
The bus network is fairly well developed in big cities and is also a good way to get out of the inner city to visit some villages or other sites located in the suburbs and beyond. The inconvenience is that long distance buses usually depart from bus stations located some kilometers from the city center, so it is necessary to take a taxi to first reach the bus station.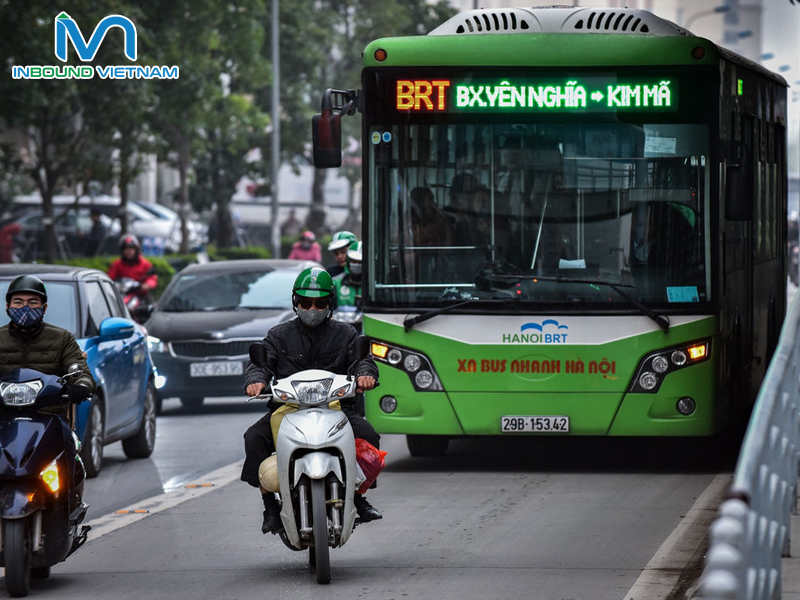 The bus is also a good means of transport to travel from one city to another and discover other outlying regions of the country. Many private companies offer bus services. Most of the time, buses are minivans, but you can also take night buses (buses with bunk beds) for longer trips.
Those night buses are generally a very good alternative to the train which is often substantially more expensive. You can buy tickets and ask information at travel agencies and hotels in order to choose the bus service that matches your requirements (time of departure/arrival, place of departure/arrival, price etc).
Please bear in mind, that even though the bus network is quite well developed, roads are often in bad condition and buses have to go slowly sometimes and stop often to pick up and drop off passengers. Transfer times are usually counted in hours and not in kilometers.
MOTO-TAXI
Moto-taxis (Xe Ôm) are everywhere! On any street corner, parked on sidewalks, moto-taxi drivers will enthusiastically offer you their services wherever you want to go. Moto-taxis are a good alternative to a car taxi as they are more able to infiltrate the dense traffic of cities such as Hanoi or Ho Chi Minh and can save a lot of travel time. Besides, travel by motorbike taxi is fun and a great way to get up close and personal with the sights and sounds of Vietnam. Please be aware that you should fix the price before the departure. Don't hesitate to bargain.
Caution: the driver should provide you with a helmet for the ride as helmets have been compulsory since 2007. If the driver does not give you a helmet, just find another driver. If you are overly concerned about comfort and safety, moto-taxis aren't really made for you, however, if you are in a hurry and a bit intrepid, moto-taxis will be one of your best friends.
MOTORBIKES
Motorbikes are the main means of transport in Vietnam but even though most locals drive them, the law clearly forbids any foreigners without a valid Vietnamese license from driving a motorbike (international licenses do not apply in Vietnam). Indeed, traffic is really dense and the risk of accidents is real. Besides, most travel insurance policies do not cover travelers for motorbike accidents. However, if you really want to move around and drive like the Vietnamese do, you won't have any problem finding an agency or a hotel that rents motorbikes (automatic or semi-automatic) with helmets to foreigners.
BIKES
If you want a means of transport more peaceful you can also rent a bicycle. However, be aware that as for motorbikes, biking in the dense traffic of city-centers may be a bit scary and potentially dangerous. This is why we recommend you to wear a helmet and limit your bike riding to the countryside and suburbs, and outside of rush hours. One thing is for sure, riding a bike in the countryside and through villages will definitely be appreciated by the local people somewhat bemused to see foreigners making such an effort. Expect lots of smiles and happy hellos, even the occasional invite to stop and share a cup of tea.
TRAINS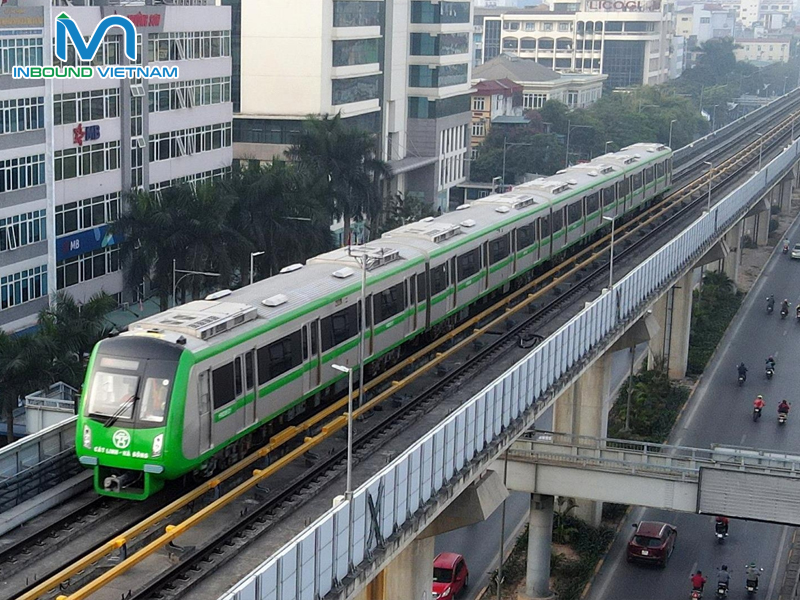 The train is a convenient means of transport in Vietnam. Transfers are secure and quite comfortable if you choose the "soft seat" or "soft bunk" classes. However, the railway network still has to be improved and travel times remain quite long (even really long). Thankfully, some Express railway services have been created, like the one between Hanoi and Ho Chi Minh City, called the Reunification Express. We recommend you to preferably choose trains registered as SE rather than those registered TN, if you want to save time (a lot of time).
CARS
Renting a car is forbidden for foreigners to drive (apart from expatriates with a Vietnamese license); however it is possible to rent a car with a driver if you want to travel alone or with your family.
PLANES
Flying is the fastest and most convenient way to travel long distances in Vietnam. Moreover, airline tickets purchased in Vietnam are quite cheap, whether you want to take a domestic flight within the country or an international flight to a neighboring country.
Should do and Should not
Before the departure, it is always better to let your guests know about the culture and traditions of their destination to ensure they will have a pleasant trip. That will help them avoid offending the local population as well as have a better understanding of their new environment. Regarding Vietnam, have a look below to discover the Should do and Should not do:
Greeting & interactions with Vietnamese:
For a Vietnamese, it is important to know the age of a person, before their job or even their wealth, as it is what defines their status. Thus, being 'old' is a positive attribute in Vietnam and asking a person how old they are is something common and well appreciated.
When out in public:
Please ask permission from locals before taking a photo. Particularly in the countryside or in the highlands.
Keep smiling. Being rude to bargain/negotiate prices won't help you. Traditionally, people in Vietnam (as in other Asian countries) are conditioned to control their emotions and keep calm in order to save face.
Any affectionate physical contact between men and women is not appropriate in public. It is better to avoid showing your affection in public.
When visiting a temple or a pagoda
Take off your shoes and socks before entering any religious place. Let them both at the entrance and walk barefoot in the temple or the pagoda.
Wear tee-shirt and shorts hiding at least your shoulders and your knees. Ideally, to avoid any problem wear trousers.
Don't wear hats or caps and cover your shoulders, knees in the temples and pagodas.
When invited to someone's home:
Traditionally, when you want to offer something to someone or when you receive a gift/object from someone, you have to use both hands.
Never hammer (tap) your chopsticks into your food (rice). This gesture reminds people of a ritual performed during a funeral.
Businesses, just as much as local communities, play a key role in protecting children globally. By being a supportive business and demonstrating a commitment to taking a decisive role in child protection, InboundVietnam Travel helps to foster a safe and comfortable environment for the youth of our Southeast Asian destinations.
By joining the ChildSafe Movement and establishing our ChildSafe Policy, we commit to improving child protection in our destinations, as well as helping our suppliers, clients, their travelers and our own staff understand and act accordingly.
Our ChildSafe implementation involves regular training for our staff and tour guides, thanks to the support of ChildSafe agents. We take reference from The Child Welfare in the Travel Industry Guidelines, The 7 ChildSafe Standards and The ChildSafe Guidelines for School Visits to help educate clients, travelers, suppliers and adapt our actions.
Money and Budget
LOCAL CURRENCY: VIETNAM DONG (VND)
The money in Vietnam is the Vietnam Dong. You can find notes of 100, 200, 500, 1000, 2000, 5000, 10.000, 20.000, 50.000, 100.000, 200.000 and 500.000 VND. The official exchange rate is $1 = 22.870 VND (July 2021).
MONEY SUGGESTIONS
Major currencies can be exchanged practically anywhere in Vietnam, but not all exchange facilities are created equal. It can be easily exchanged in authorized shop and the local banks as Vietcombank, BIDV, Techcombank. Agribank etc or international banks as HSBC, CITI, UOB, STANDARD CHARTERED etc... Banks in major cities like Hanoi and Ho Chi Minh, DA NANG City… will exchange foreign currencies and most travelers' cheques.
Always bring new notes; any damaged or dirty notes will be charged an additional two percent of the note's face value.
ATM AND CREDIT CARDS
International credit/debit cards such as VISA, MASTERCARD, JCB, AMERICAN EXPRESS… are accepted in most ATMs and shops/stores that accept card payments. With a foreign card, a small percentage of the amount withdrawn/paid will be charged; however this amount remains quite low. The money withdrawn at ATMs is always in Vietnam Dong.
TRAVELER CHEQUES
Only banks located in big cities such as (Hanoi or Ho Chi Minh) keep accepting traveler cheques. We recommend you to have another means of payment.
BARGAINING
Bargaining is part of the Vietnamese tradition. You have to bear in mind that everything (or almost everything) is worth a certain price, but the price varies (sometimes a lot) according to the client. You can be sure that with your foreign face you won't be offered the best price…so bargaining is essential! You can even halve the price or even more sometimes. Be careful, however, not to offend the vendor and to keep smiling and stay polite in any circumstance. Don't push too much and do not bargain in any place it is not welcome: shops with fixed prices are not open to negotiation.
TIPPING
Tips are not part of the tradition of Vietnam. However, in some situations and thanks to the many generous travelers that have preceded you, tipping is becoming more popular.
For example, you can tip your guide and driver after a whole day or several days of travel. You can also tip luggage porters and taxi drivers.
It is not usual to tip a waitress/ waiter.
When visiting temples or pagodas, you will usually see some donation boxes near the entrance/exit in which you can place some money. In this case, we do not call it tips but donations, dedicated to the maintenance of the site. Vendors and other people within the venue may also invite you to pray with them with an incense stick, but if you accept, some of them will likely ask you for some money in exchange.
Import and Export Restrictions:
Overview:
The following items may be freely imported into Vietnam by travelers without incurring customs duty.
1. For passengers 18 years of age and older:
A. Tobacco products: 200 cigarettes, or 20 cigars or 250 grams of tobacco;
B. Alcoholic and non-alcoholic beverages:
Liquor at 20% volume and above: 1,5 liters; or
Liquor below 20% volume: 2 liters; or
Other alcoholic beverages (excl. wines) and soft drinks: 3 liters;
C. Tea, max. 5 kilograms; coffee, max. 3 kilograms;
2. A reasonable quantity of perfume and personal belongings;
3. Other goods, total value of which is not exceeding ten million VND (Vietnamese Dong).
Banned Imports
Prohibited imports include weapons, ammunition, explosives, military equipment, antiques, drugs, toxic chemicals, immoral products, firecrackers, more than 200 cigarettes, and raw gold.
Banned Exports
Prohibited exports include weapons, ammunition, explosives, military equipment, antiques, drugs, toxic chemicals, wild animals, endangered plants and animals, documents related to national security, and raw gold.
Currency Import regulations:
Local currency (Vietnamese Dong-VND): no restrictions. Amounts exceeding VND 15,000,000.- must be declared on arrival.
Foreign currencies: no restrictions. Amounts exceeding USD 5,000.- (or equivalent) must be declared on arrival. Amounts under USD 5,000.- (or equivalent) to be deposited in credit institutions and branches of foreign banks must also be declared on arrival.
Currency Export regulations:
Local currency (Vietnamese Dong-VND): no restrictions. Amounts exceeding VND 15,000,000.- must be declared on departure.
Foreign currencies: no restrictions. Amounts exceeding USD 5,000.- (or equivalent) must be declared upon. Proof of expenses is required.
Health:
Vaccinations
Officially, no vaccinations are required to enter Vietnam apart from travelers coming from countries with yellow fever transmission risks. However, if you travel to Vietnam you should do everything possible and take all required precautions to avoid becoming ill during your trip. Make sure that all your vaccinations are current and that you are vaccinated for Tetanus, Polio and Diphtheria. Other vaccines recommended include Hepatitis A and Hepatitis B (if you are in-country for over 3 months), Typhus and Tuberculosis, vaccinations against rabies and Japanese encephalitis are also advised.
Health Advice
Drink plenty of fluids during the day (2 liters).
Do not drink tap water in Vietnam. Only bottled water is drinkable.
Wash your hands frequently
Avoid eating unpeeled fruit or raw vegetables and ice.
Most important: trust your gut feeling. If you don't like your food, stop eating and do a double check when eating from street vendors.
– Keep a pull-over with you to cover yourself when the air conditioning is too cold or for cooler nights outside.
Emergency contacts:
Police: 113
Ambulance: 115
Fire department: 114
Children rescue: 111
What to prepare?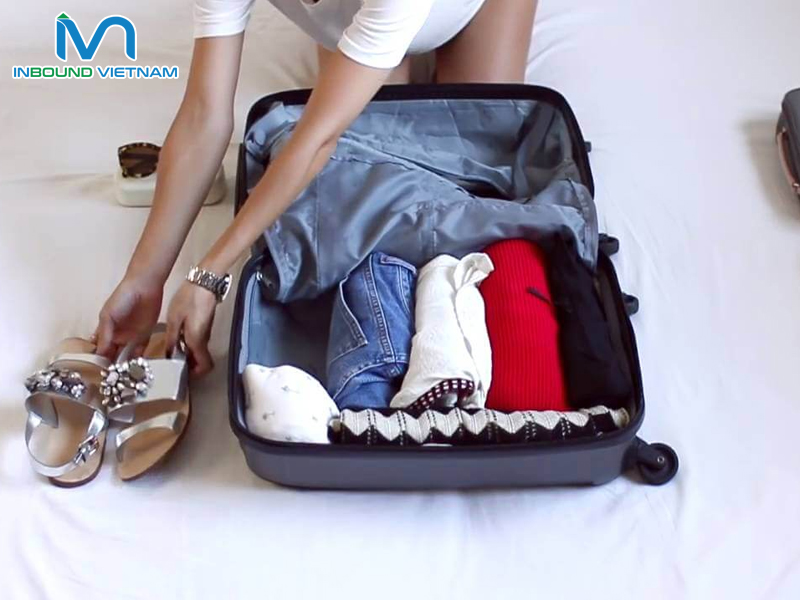 Pre-Departure Tasks
Make sure your passport is valid for at least 6 months before the expiry date and that you have the correct visa. Have a look at the visa requirements for more information. Consider medical, baggage and trip cancellation insurances.
Check with your doctor the vaccinations and medicines needed.
Clothes
Clothing should be lightweight and of the drip dry variety. You will be in the sun a lot so long sleeves and a wide hat would be more suitable.
Underwear should be synthetic and easily washable.
Sleepwear.
Shirts should be long sleeved and lightweight with lots of closed pockets.
T-shirts, short sleeved and again with pockets.
Cool evenings necessitate the need for pullovers or a lightweight jacket.
A lightweight vest with lots of pockets will be handy for carrying your camera (and film) and binoculars.
Long trousers made from a lightweight, quick-drying fabric should have multi pockets for day trips. Long trousers that turn into shorts are ideal.
For trekking lightweight long shorts (for modesty purposes) are acceptable.
Bathing suit should be modest so as not to offend the locals.
Hat for protection from the sun. Should have a wide brim and a strap.
A sturdy poncho or parka will help to keep your gear dry in case of rain or waterfall spray.
Footwear: You will need some sturdy comfortable boots for trekking or just walking around. They will need to support your ankles as well as having a nonslip sole.
Waterproof sandals for those short trips and boating.
Some smart casual clothes for the evenings and visiting restaurants.
Pharmacy
Insect repellent with the percentage of DEET recommended by your travel medicine physician. It's important that you bring an ample supply of good quality repellent.
Antiseptic wipes for hand washing and emergency toilet paper.
Personal First Aid Kit (bring in small amounts and in small containers)
Aspirin/ibuprofen, etc.
Cold-symptom relief tablets, antihistamine, cough drops. Adequate quantity of sweat-resistant sunscreen with at least an SPF 15 rating or higher, and lip balm with sunscreen.
Prescription medicines in their original bottles. Acidophilus enzyme (available in capsules in health-food stores). This often helps your digestive system get in shape for "new" flora.
Immodium, Lomotil, or similar anti-diarrhea medicine. Pepto-Bismol.
Vaccinations
Officially, no vaccinations are required to enter Vietnam apart from travelers coming from countries with yellow fever transmission risks. However, if you travel to Vietnam you should do everything possible and take all required precautions to avoid becoming ill during your trip. Make sure that all your vaccinations are current and that you are vaccinated for Tetanus, Polio and Diphtheria. Other vaccines recommended include Hepatitis A and Hepatitis B (if you are in-country for over 3 months), Typhus and Tuberculosis, vaccinations against rabies and Japanese encephalitis are also advised.
Articles same category
VIETNAM - COVID-19 Cases: 1.205.128 recorded cases. 960.203 of the patients have already been discharged from the hospitals, 24.847 death. Updated Nov 29, 2021.
Vaccine passport in Vietnam is one of the most searched keywords among not only business travelers who are in need for a business trip to Vietnam...
With many activities taking place such as singing and dancing, boat racing, street parades, etc., creating special features for festivals in Vietnam.