Inbound Vietnam Travel - Viet International Travel and Trade Co., Ltd
Vietnam Consular Legalization Service
InboundVietnam provides a fast, reliable, simple, and secure service to support you in legalizing your documents issued in foreign countries to be used in Vietnam at your embassies then Consular Department, Vietnam Ministry of Foreign Affairs.
The process of legalizing foreign documents for use in Vietnam varies from one document to another, from one country to another. The key to our service is ensuring your documents is presented to the right authorities and that ultimately your documents are accepted when presented to any interested parties in Vietnam.
We can also translate your documents into Vietnamese.
Why InboundVietnam's Consular Legalization Service:
For almost 10 years, we are confident of being one of the most reputable Consular Legalization Service Provider in Vietnam for:
Reliability: We have been providing this legalization service since 2012 and have a wealth of experience so can deal with virtually any document.
Absolute Security: InboundVietnam consists of a team of specialists. You can be assured that your documents are treated with care, attention to detail, and a consistent, professional manner.
Guaranteed Delivery: We always process documents as soon as we receive them and do whatever is possible to meet the required timescales.
Excellent Support: With nearly 10 years of experience we know how to process your documents and offer you the best advice on legalizing your documents.
Resonable price: 800.000vnd/1 stamp
Here are some popular types of documents requested for legalization by our customers:
Diploma, Transcript, TEFL, TESOL

Birth Certificate

Marriage Certificate

Certificate of Marital Status

Divorce Certificate

Death Certificate

Police Check

Power of Attorney

Appointment Decision

Working Experience Confirmation

Certificate of Establishment

Business Registration Certificate

Business Documents

Contracts, Agreements

Legal Documents
And here are the most popular countries served by us:
. India Documents

· South Korea Documents

· Japan Documents

· Singapore Documents

· Hong Kong Documents

· Taiwan Documents

· Thailand Documents

· China Documents

· Indonesia Documents

· Philippines Documents

· UK Documents

· Italy Documents

· German Documents

· France Documents

· Ukraine Documents

· Belgium Documents

· Portugal Documents

· Russia Documents

. US Documents

· Australia Documents

· South Africa Documents

· Colombia Documents

· New Zealand Documents

· Mexico Documents
How to Apply for Vietnam Consular Legalization? With only 3 simple steps below, you will get your document legalized without hassles.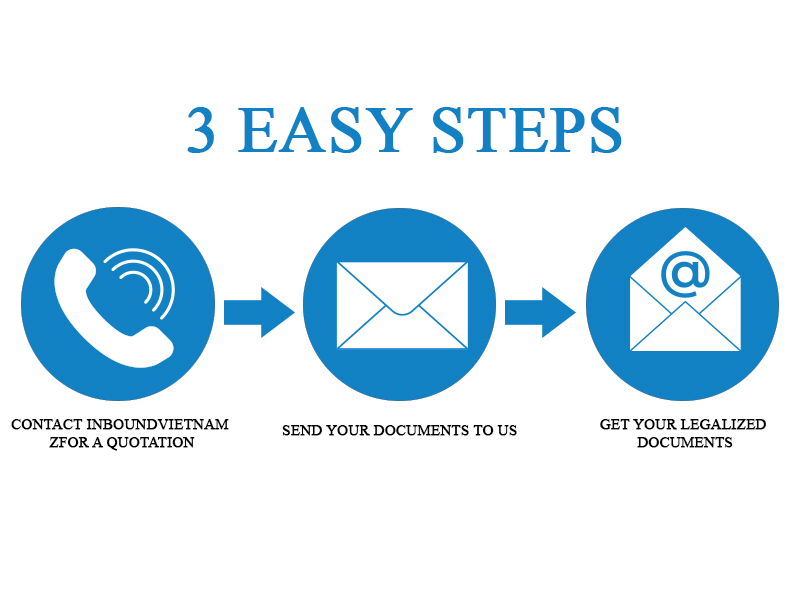 For more details, please contact:
VIET INTERNATIONAL TRAVEL & TRADE CO., LTD