Inbound Vietnam Travel - Viet International Travel and Trade Co., Ltd
What To Do in Ninh Binh at Night – 6 Best Things To Do in Ninh Binh Nighlife

Date Submitted: 06/09/2021 - 35,464 - view
What To Do in Ninh Binh at Night? Here are 6 night activities that visitors must experience in Ninh Binh.
Vietnam is a fascinating country, full of surprises and one of the most attractive destinations in Asia. Plan your trip with the list of all best places in Vietnam with InboundVietnam.
Ninh Binh – a unspoiled beauty with mountain, river, It was quite a romantic with of the fields stretch away to the horizon and lotus flowers near the cliffs , It look as beautiful as a picture, However in most of some people's minds, Ninh Binh has never been an attractive tourist destination because of the boredom of this place. But after you read this article, I think, a lot of people will have to look back the hidden charm of this ancient capital, and have a reasonable your answer what to do in ninh binh at night?
1. Explore Thien Ha cave – The sparkling beauty at night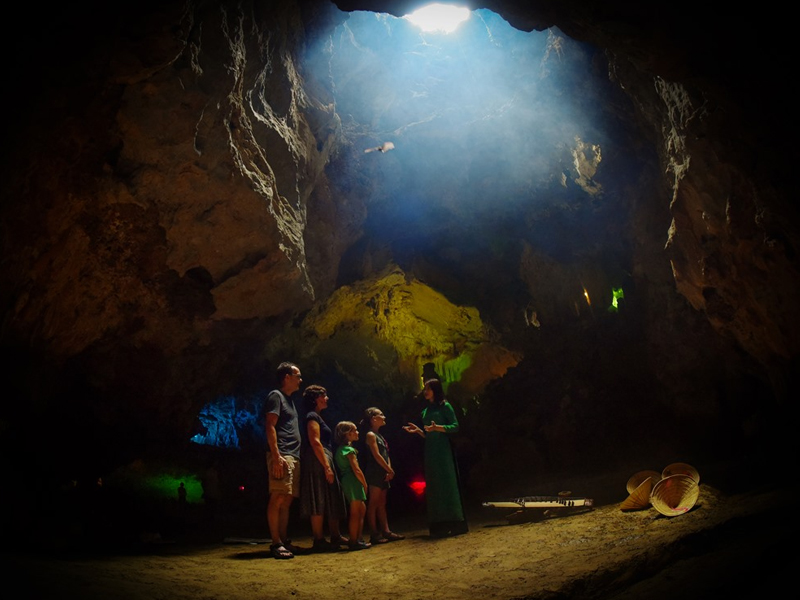 Bai Dinh pagoda is located in Trang An scenic complex (Ninh Binh) which has become a famous spiritual destination of the Red River Delta and of the Vietnamese people. However, not many people in Vietnam have the opportunity to admire the fanciful beauty of this temple at night.
With the aim of having more new experiences for visitors, Bai Dinh night tour has been officially developed since the end of 2016.
When the sun goes down, the space of Ninh Binh has brightly-lit giant lamp decorations, with their constantly interchanging colors. In contradistinction to the daytime, the night life at Bai Dinh is more quiet and peaceful. The electric cars depart from hotel lobby to pick up us for exploring Bai Dinh Pagoda at night.
The air is very fresh, sometimes you will feel the smell of flowers. Temple bells echo throughout the temple, many visitors say they feel care, worry left in their hearts and feel more relieved.
2. Experiencing Ward 8- famous for food, drinks and entertainment services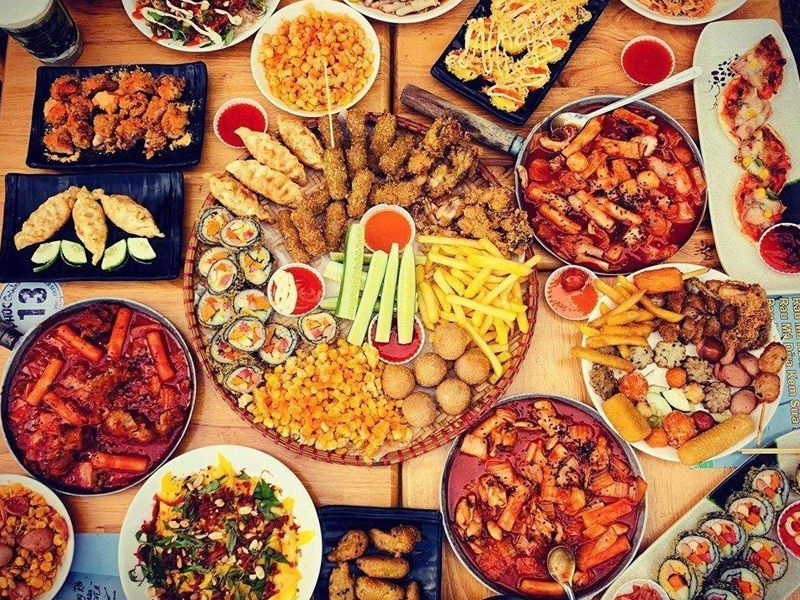 Known as a beautiful heaven in Ninh Binh city – Cu Chinh Lan streets (Ward 8)is located In the center of the town. This street is famous for many interesting things.
After a long day you explored famous destinations of the ancient capital, in the night dispel fatigue and worries of daily life by enjoying special food.
Come to Let's Go to Ward 8, you have loaded that person's stomach with super delicious and attractive dishes that are extremely "loving" at the price. There are many restaurants and shops or karaoke bars serving the needs of visitors.
Walking along this street, visitors are mesmerized by the rich flavor of countless attractive dishes such as hot sticky rice, burnt rice, grilled chicken legs, snails, soft fat goat meat, hot pot... increase attraction. of local tourism, attracting many tourists to Vietnam as the noisy atmosphere of this street.
3. Ky Lan mountain- Rockery of Ninh Binh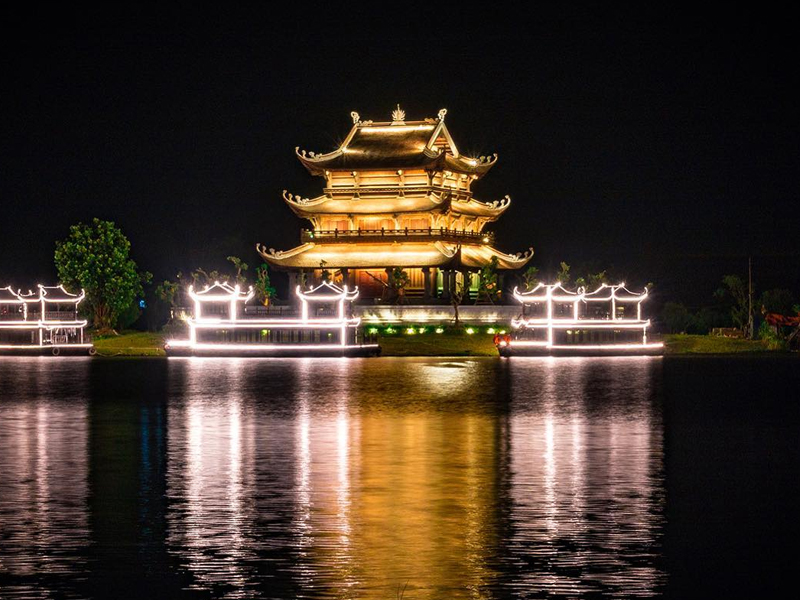 Ninh Binh where has been given many beautiful landscapes and mountains such as Canh Dieu mountain, Non Nuoc mountain, Ma Yen mountain, etc… One of these famous places, Ky Lan mountain has long been called "Rockery "of Ninh Binh for a long time
Ky Lan Mountain - located on the Trang An River in the center of Ninh Binh City, next to National Highway 1A to the west. The name Unicorn probably comes from the shape of a mountain with a unicorn's head facing north.
A mountain more than 50 meters high, along the northern ridge has been recessed into a unicorn's jaw. Surrounded by undulating hills and mountains, trees are as green as the mane and beard of a unicorn.
4. Aria Cafe – Homely space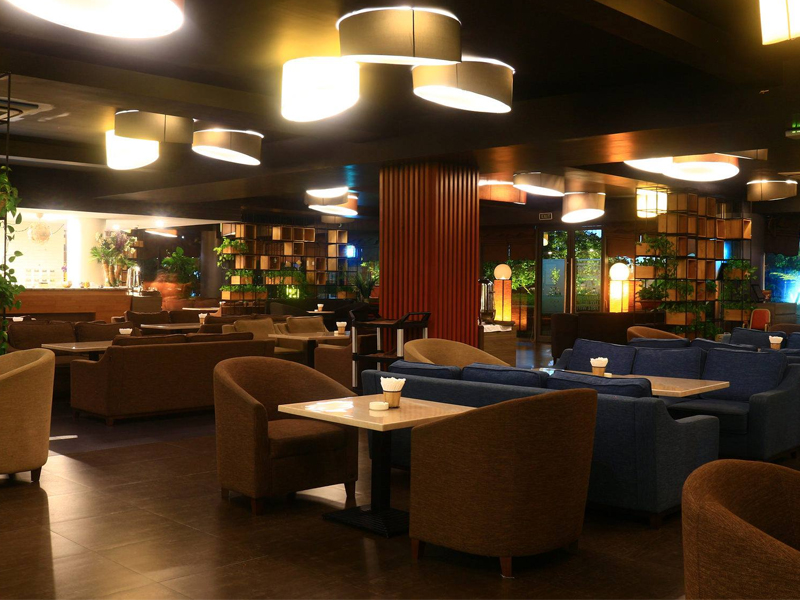 Located on the 1st floor of Bong Lau Event Center - The Reed Ninh Binh Hotel, Dinh Dien Street, Dong Thanh Ward, Ninh Binh City, Aria Café is the most unique cafe in Ninh Binh. This place gives you a completely new and relaxing space with unique moments.
This place is compared to a real paradise on earth. As a dating paradise after many days of longing, separation, or even simply stopping by a cafe on the way to sip a cup of strong coffee, Arica Café has become a super hot stop for young people in the world. recently. day in Ninh Binh city.
When coming to Aria Café, you can choose a small corner to watch the peace of this city every night. This place is also the ideal destination for you to launch a new collection, with gorgeous shots at Arica Café that not everyone knows.
5. ​​Ninh Binh sports arenas – Feel the simple life of local people
If you want to discover all the activities as well as the peaceful life of the capital city, you should not forget to visit the Sports arenas of Ninh Binh province.
Located on Dinh Tien Hoang Street, Dong Thanh Ward, Ninh Binh City, Ninh Binh Gymnasium is one of the most modern gymnasiums in Vietnam, hosting many volleyball tournaments across the country.
Sports areas are a familiar destination for many people, especially young people, every evening. Coming to this area, you can not only admire the beautiful scenery of Ninh Binh at night but also enjoy many delicious, strange and eye-catching dishes.
6. Chookie's – traveler's favorite destination for visiting Ninh Binh
Chookie's is a restaurant, coffee shop. It is located at 17 Luong Van Ton - the city center.
The first impression of visitors when visiting this restaurant is probably the bright, eye-catching red color that makes the space even more warm. Coming to Chookie'syou, you will enjoy famous burgers, sandwiches, and fresh juices only available at this restaurant.
Chookie's is also popular with many tourists because it not only serves tourists in the country but also foreign guests. With professional staffs have skills speaking English like native person, they is very warm and hospitable.
In addition, Chookie's offers many other convenient travel services such as motorbike rentals, tours, train tickets.
>>> Many destinations in Ninh Binh for you at: https://inboundvietnam.com/tour-travel-ninh-binh
Articles same category
VIETNAM - COVID-19 Cases: 1.205.128 recorded cases. 960.203 of the patients have already been discharged from the hospitals, 24.847 death. Updated Nov 29, 2021.
Vaccine passport in Vietnam is one of the most searched keywords among not only business travelers who are in need for a business trip to Vietnam...
Neighboring countries: China to the north, Cambodia to the southwest and Laos to the west. The South China Sea borders the country to the east.