Khanh Hoa welcomes the first flight carrying more than 290 international guests
Date Submitted: 29/11/2021 - 4,645 - View
On the afternoon of November 25, the first plane carrying more than 290 US and Canadian nationals with vaccine passports to Khanh Hoa landed at Cam Ranh Interna
On the afternoon of November 25, Khanh Hoa Department of Tourism coordinated with Bamboo Airways to hold a ceremony to welcome more than 290 international tourists with vaccine passports to Nha Trang-Khanh Hoa. Bamboo Airways' flight made the route Seoul (Korea) - Nha Trang (Vietnam). This delegation consisted of 43 Americans and Canadians, the rest were mostly overseas Vietnamese with American citizenship.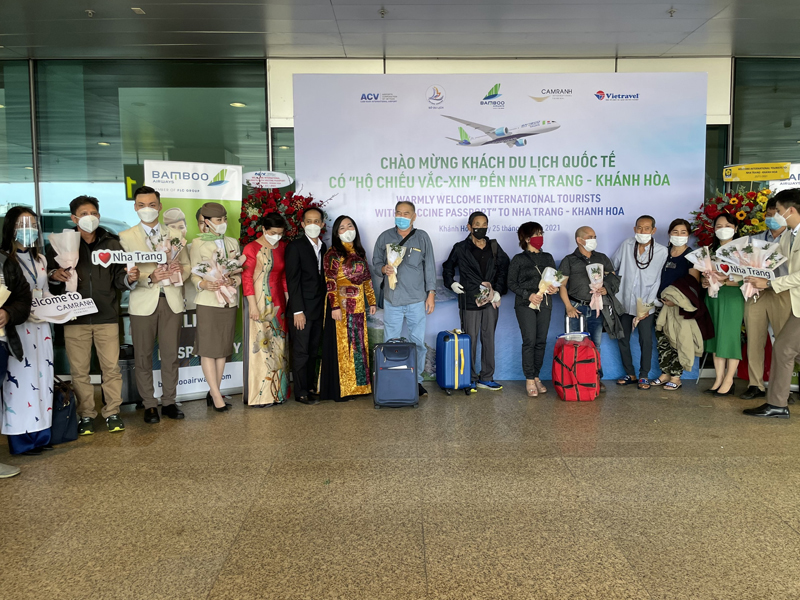 After landing, the passenger moves to a pre-booked accommodation in Nha Trang, is tested for COVID-19 and has a self-contained resort according to a pre-registered schedule according to a plan organized by the travel agency during the flight. within 7 days. During the process of moving from the airport to the accommodation, passengers are required to strictly comply with the 5K message.
Currently, Bamboo Airways serves passengers with vaccine passports coming to Vietnam for tourism purposes with the condition that they have had a full dose of COVID-19 vaccine, in which, the last dose is given at least 14 days and not more than 12 months from the time of entry. In addition, passengers must have a negative test result for SARS-CoV-2 by RT-PCR/RT-LAMP method within 72 hours before departure and be certified by the competent authority of the host country. ; have medical or travel insurance that covers COVID-19 treatment with a minimum liability of $50,000 and have completed a medical declaration.
This is a positive signal for Khanh Hoa to revive the source of international tourists that have long been suspended due to the COVID-19 epidemic. The advantage of Khanh Hoa today is vaccine coverage with 100% of tourism workers having had 2 injections. In addition, Khanh Hoa has many isolated resorts, so it is very convenient and safe to welcome international guests. Previously, the Government has agreed to a policy on a pilot route to welcome international tourists to Vietnam according to the guidelines. proposal of the Ministry of Culture, Sports and Tourism. The pilot route to welcome passengers is divided into 3 phases, of which the first phase is piloting international arrivals according to package tourism programs, through charter flights and international trade in regions and agencies. selected tourism service center in the city. Phu Quoc (Kien Giang), Khanh Hoa, Quang Nam, Da Nang, Quang Ninh.
Articles same category
Neighboring countries: China to the north, Cambodia to the southwest and Laos to the west. The South China Sea borders the country to the east.
With many activities taking place such as singing and dancing, boat racing, street parades, etc., creating special features for festivals in Vietnam.
You are about to have a trip to Sapa in Vietnam, and here are the 15 most interesting Sapa discovery activities for you.