Inbound Vietnam Travel - Viet International Travel and Trade Co., Ltd
Sea Games 31 Men's football Group A held at Viet Tri Stadium Phu Tho Province

Date Submitted: 13/04/2022 - 26,355 - view
Viet Tri Stadium in Phu Tho province is the venue for the matches of Group A men's football including U23 Vietnam, Indonesia, Myanmar, Philippines, Timor Leste
Viet Tri Stadium, Phu Tho Province
Address: Hung Vuong Street, Ph.Tho Son, Viet Tri City, Phu Tho.
Viet Tri Stadium is a football stadium located in Viet Tri City, Phu Tho province. This stadium with a capacity of nearly 18,000 seats which is located in the premises of the Sports Complex of Phu Tho province.
Viet Tri Stadium in Phu Tho province is the venue for the matches of Group A men's football sea games 31st. The distance from Noi Bai international airport to Viet Tri Stadium is about 50km, you can travel by By car, following Noi Bai Lao Cai highway or National Highway 2. If going from Hanoi center to Viet Tri, it is about 70 km.
Viet Tri is the capital city of Phu Tho province, Vietnam. Viet Tri city is the central urban area of ​​the Northern Midland and mountainous provinces and is one of 22 urban centers of class I of Vietnam. The northern midland hilly region with cool fresh air, the average temperature from 20 to 35 degrees Celsius is very suitable for sports activities.
Coming to Viet Tri, in addition to participating in cheering the top football matches of Sea Games 31st, you can also travel to the famous tourist attractions of Phu Tho province such as:
1. Special National Historic Site of Hung Temple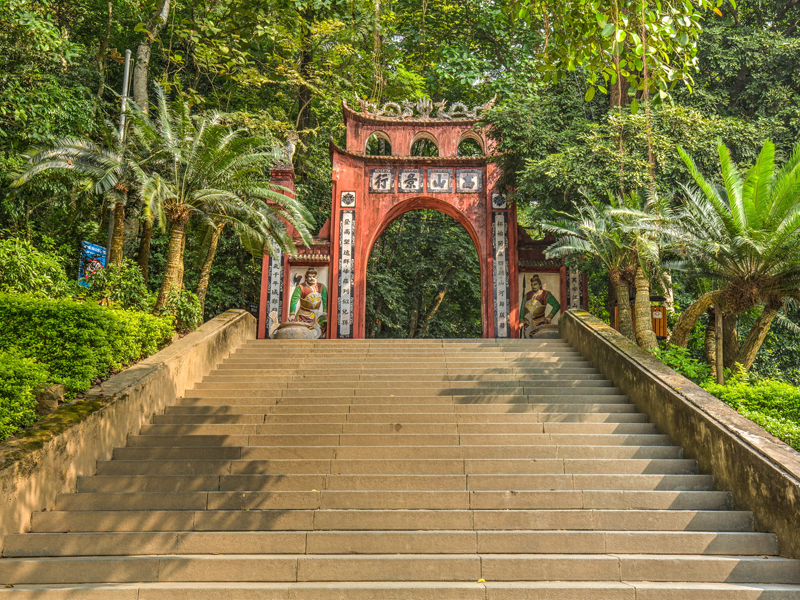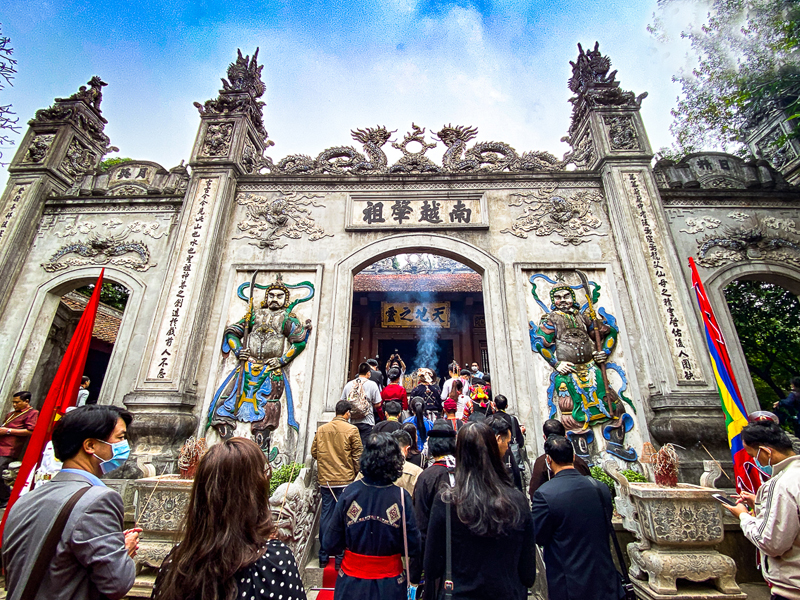 The historical site of Hung Temple is a land of spiritual land, a place where the sacred souls of rivers and mountains converge, a place to worship the Hung Kings who built the country - the sacred ancestors of the Vietnamese nation. Hung Temple is located in Hy Cuong commune, Viet Tri city - built on Nghia Linh mountain from the reign of King Dinh Tien Hoang. By the Later Le Dynasty (XV century) it was completely built according to the present scale. The complex of Hung Temple historical relic area includes: Ha temple and Thien Quang pagoda, Trung temple, Thuong temple and Hung King's mausoleum, Well temple, To Mau Au Co Temple, Quoc To Lac Long Quan Temple. Along with that, there are auxiliary works to serve the spiritual needs of the country's compatriots on the Hung Kings Ancestral Anniversary every year on the 10th day of the third month (lunar calendar).
2. Hung Vuong Museum
Located on Tran Phu street, on the lakeside of Van Lang park - the center of Viet Tri city. Hung Vuong Museum is like a "history in kind" attracting a large number of tourists from all over the world to visit, learn and discover unique values about the history and culture of the land.
3. Van Lang Park
Located in the center of the city, Van Lang Park emerges as a pearl, an important highlight of Viet Tri city. Van Lang Park is considered as a tourist attraction, not only the beauty of this city but also the unique features of the traditional culture of the land of the ancestors. The park gathers unique traditional symbols of the Hung Kings period.
4. Lai Len Temple – The place where Xoan singing was discovered
Lai Len Temple was built on the old foundation at the mound in the middle of the field in Phu Duc village, Kim Duc commune, 7km north of Viet Tri city center. The shrine is considered as the birthplace of the Xoan singing, dating back to the Hung Kings era.
Xoan singing in Phu Tho - Representative intangible cultural heritage of humanity, is the pride of Phu Tho people in particular and Vietnam in general. If you want to enjoy Xoan singing, let come here.
Viet Tri city, Phu Tho province is famous for delicious dishes such as:
1. Lang fish
The delicious Viet Tri specialty must be the lentil fish dish. Many visitors to Viet Tri also assert that they must eat this fish dish to feel its deliciousness - strangeness. Salmon here has catfish that live in freshwater such as rivers, streams, waterfalls... Due to living in a natural environment, not rearing, the fish meat is very firm, with few bones, and has a sweet taste. Non-fishy aroma, cure many diseases such as diuretic, body heat. The fish meat contains a lot of vitamin A, which helps to keep the eyes bright and improves bone and joint problems.
With this Viet Tri specialty fish dish, the people here have prepared 12 different attractive dishes such as: grilled lentils, mixed lentils, grilled carp, sautéed lentils, sautéed lentils with mushrooms, shrimps. Salmon fish, salmon hot pot…
Each dish will have its own unique flavor, depending on the preferences of each person, but choosing a different processing method. Therefore, visitors here can freely choose dishes made from Lang fish according to their preferences
2. Anh Vu Fish
Viet Tri fish specialties, besides Lang fish, also have Anh Vu fish. This fish only appears from October of the solar calendar to March of the following year. Anh Vu fish live in groups, only live in clear water, there are many caves and when the water is cold, they will find their prey. Therefore, catching an Anh Vu is a feat. In the past, only kings could enjoy this fish. Therefore, this Anh Vu fish dish has become the specialty of Viet Tri of Phu Tho. Anh Vu fish meat is very thick, delicious, white and the most delicious is the lip cartilage, this cartilage block is very crispy and also cures diseases. No matter how it is cooked, the steamed Anh Vu fish is the best. Just wash the fish, marinate it with ginger and some spices in the belly of the fish, add a little delicious fish sauce, steam it in a water bath until the fish is cooked. Steamed fish retains the nutrients, delicious from the sweetness of the meat, or crispy from the cartilage... making it hard for people to forget. In addition to the steamed Anh Vu fish, which helps to keep the fresh taste, Anh Vu fish cake is also extremely famous. If you have the opportunity to come here, do not forget to enjoy these Anh Vu fish dishes.
3. Viet Tri Tai cake
Banh Tai (Tai cake) is a cake from the ancient times of Phu Tho village. It has a name similar to its shape. The ingredients for this dish are very simple: soft, fragrant white rice, pork and a few other special spices. Banh Tai is easy to make, but not everyone can make it with the same special inherent flavor as the villagers of Viet Tri. Soak rice, pound or grind, put in a pot of boiling water for about 20 minutes. Take out the mortar and grind it, then knead the dough with your hands.
The filling is made of minced lean meat, mixed with pepper, dried onions, main noodles, a little fish sauce, and soup powder.
Then the dipping sauce includes: fish sauce, garlic, lemon, sugar, chili. Mixing spicy and spicy is delicious. Tasty tai cake made with plain rice flour is quite delicious, not greasy, flexible, full of the aroma of onions, flexible and fleshy of rice flour, greasy of lean meat.
To Viet Tri city, you can stay at the following hotels:
1. X2 Vibe Viet Tri Hotel (3 stars)
Address: Hai Ba Trung street, Viet Tri city, Phu Tho province
2. Muong Thanh Luxury Phu Tho (5 stars)
Address: Lot CC17, Hung Vuong Square, Gia Cam Ward, Viet Tri City, Phu Tho Province
Detail: Muong Thanh Luxury Phu Tho
3. Sai Gon Phu Tho Hotel (4 stars)
Address: 17A Tran Phu, Gia Cam Ward, Viet Tri City, Phu Tho Province
4. SOJO Hotel Viet Tri (3 stars)
Address: SOJO Hotel Viet Tri - No. 938 Hung Vuong Road, Tho Son Ward, Viet Tri City, Phu Tho Province
Detail: Sojo Hotel Viet Tri
Vietnam is a fascinating country, full of surprises and one of the most attractive destinations in Asia. Plan your trip with the list of all best places in Vietnam with Inbound Vietnam Travel. Contact: (+84)962 88 7676.
Articles same category
VIETNAM - COVID-19 Cases: 1.205.128 recorded cases. 960.203 of the patients have already been discharged from the hospitals, 24.847 death. Updated Nov 29, 2021.
Vaccine passport in Vietnam is one of the most searched keywords among not only business travelers who are in need for a business trip to Vietnam...
Neighboring countries: China to the north, Cambodia to the southwest and Laos to the west. The South China Sea borders the country to the east.